Acrylic Displays for Retail Merchandising, Signage, and Presentations
Clear Acrylic Displays for Retailers and Business Professionals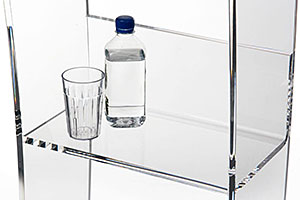 What are some of the most popular kinds of retail fixtures? Acrylic displays, like countertop racks, dust covers, and sign holders, are made right here in the states by the manufacturer - Displays2go. While many suppliers simply buy to resell, we are the source and can provide high quality plexiglass fixtures at the lowest prices. Over 800 acrylic displays are available and most are stocked for same day shipping. That means you will not only save on the best wholesale products on the market, but you'll also get them much faster. No matter what kind of merchandise or service your company offers, you're sure to find a high quality solution right here made by America's premier acrylic display manufacturer. So what are you waiting for? Order today and start selling more of what makes your business a success!
Why buy acrylic displays from Displays2go?
With over 40 years of manufacturing knowledge, our internal production facility features state-of-the-art heat-forming capabilities, laser cutters, and diamond edge machine polishers.
As the manufacturer, we have complete control over the quality of our fabricating as well as the packing and shipping of the products.
Because these plastic store fixtures are made in-house, we can keep costs low and pass on the savings to our customers. When purchasing in bulk, each unit cost less as the order size increases. Need to outfit a whole chain of stores with new acrylic displays? No problem! Our talented staff of manufacturers and order pickers can handle it!
We operate a huge new warehouse that allows us to fill more orders than ever before. In addition, we can also customize many of the displays using state-of-the-art graphic printing processes. Still not convinced? Read the reviews on any of our products denoted with The Workshop by Displays2go and you'll hear from real customers with verified orders.
Acrylic displays are unique in that their clear construction keeps the focus on the items or the service rather than the fixture itself. Transparent product holders complement items but don't steal the show, yet are some of the most modern options when it comes to displaying merchandise. Plexiglass is also a bit more durable than your average injection molded plastic designs, so they'll stand up to repeated use. What's even better is that the material is easy to care for and can be buffed out when scratches appear. So don't just empty your wallet on expensive retail fixtures when you could pay much less and pick up a few clear display cases, tabletop racks, or literature holders. Use to create an effective countertop POS presentation for impulse items, brochures, and other types of merchandise.
Want to know more about the manufacturing process and the difference between acrylic and other varieties? Our team has put together a helpful article highlighting the many forms of clear plastic, but also offers some considerations to make when ordering for your retail store, trade show booth, or other visual merchandising setup.