Wireless Microphone for Up to 200', Battery-Powered
We're sorry, but this product is discontinued and is no longer available for purchase.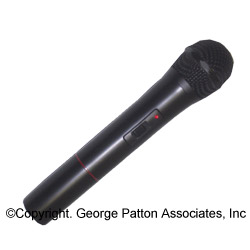 This Microphone is to be used with our specific podiums ONLY (see link below)
Wireless up to 200 ft from the receiver
Description
Wireless Handheld Microphone | Specific Systems Only
This wireless handheld microphone is a great add on to any of our specified podiums ONLY. The unit may work with other systems as well, but we can only guarantee it will work with our specific list of podiums. This microphone uses a 9V battery not included with this purchase. Flip the wireless on/off switch on your lectern to the on position to use this microphone. This microphone allows the speaker to use the lectern wireless up to 200 ft.
If your lectern was not purchased from us or if trying to use it with sound system other than the specific list of lecterns, we cannot guarantee that this product will work with your system.
Reviews
Browse reviews from customers who have already purchased this product.
This product has not been reviewed yet. Be the first.