Posted on 13, July, 2021
Last Modified on 29, July, 2021
Successful exhibitors are always seeking out of the box ways to engage with attendees, from innovative promotional signage, to hands-on demos and interactive displays. One proven tactic to try this trade show season is the use of games, raffles, and giveaways to generate brand awareness and raise interest in your booth at strategic times. When your product demos are underway and you need to increase foot traffic, or want to draw potential customers away from competitor booths during peak periods, sometimes even the most eye-catching displays won't cut it With all of the exhibits, names, deals and pitches running through the head of your prospective customer during the event, sometimes it can be the swag in their bag that gets their attention, jogs their memory orplace your business at the forefront of their mind.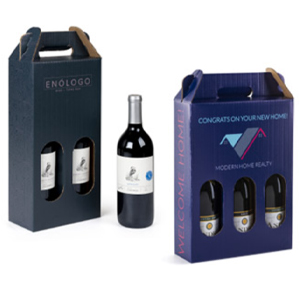 Think about their flight back, or their morning workout at the hotel gym before the second or third day of a week-long event, or even the days post-show where they are back in the office catching up on the mundane day-to-day operations of their role. Ask yourself, what can your exhibit's experience provide that can help them remember your pitch and pick up that phone to talk to one of your salespeople? Sure, you can hope that your brochure shines golden in a stack of dozens sitting at the corner of their desk, or, you could have given them something they needed and have used every day since they met with your team. Branded corporate gifts come in many forms, including power banks, speakers, charging mousepads, or even custom printed wine boxes (bottle included) for their team to celebrate with after the final day.
Our point is, branding works, so trust it, embrace it, and give your potential customers all of the reason in the world to visit your booth as often as possible in order to build that relationship. Bonus points for sending them home with something more than a solid pitch to remember you by.
Top 5 Games to Boost Engagement at Trade Shows
Incorporate selfie stations and photo booths into your exhibit as a way to get potential customers actively involved with your product, break the ice, and gain exposure on their social media platforms through photo contests. Create a hashtag for your specific event and encourage guests to upload their quirky photo-ops to Instagram, Facebook, Twitter, or even TikTok to reach thousands, perhaps millions in their circle. Collect their contact information to enter into a raffle and at the end of the day invite any winners to come back and collect their prize. Not only does this create a fun, engaging experience for those attending the show, but it also may boost your online presence into trending status online simultaneously.

---

Good business solves a problem, great business adds value through the solution. Take advantage of phone charging kiosks to help event guests keep their phones, tablets, and laptops topped off through long days. Not only do these fixtures turn your booth into a beacon for those who may have forgotten to plug-in overnight, but they also provide a place for customers to check-in to your booth by scanning a QR code to gain access to the charging station. This approach works three fold, your team receives their contact information, your guests get to charge their device, and you can enter them into a daily raffle to win a range of branded promotional prizes. At the end of the day simply run each entry through a randomizer and reach out to your winner, inviting them back to the booth to win a voucher, bottle of wine, or gadget.

---



Prize wheels are a staple for any corporate convention, trade show booth, or job fair. What's great is that you can customize each section to meet the needs of each particular event, offering private consulting, giveaway items, extra demo-time, or anything else that can provide value to your booth. Roulette-style games of chance are designed to help attract visitors, invigorate meetings, conventions and conferences, special events, classes, or turn everyday interactions into fun-fueled minigames. After-all, who doesn't like a little gamble, the eager anticipation of the spinning wheel, and the small ping of dopamine when the arrow lands on the prize you were hoping for? Prize wheels are a great way to include a fast, one-off game that takes little commitment, provides a lot of fun, and is hard to lose!

---

Test your guests' knowledge base with industry trivia! Take the time to identify key issues that are apparent in the day-to-day uses of competitors, products or issues that your product solves. Then, create a trivia for Jeopardy board that prompts your prospective clients' knowledge and while reminding them how your brand's service has the best solution. This approach can not only teach others about issues that only content matter experts would know about, but can also enlighten them on how your company can help them avoid the problem altogether. Pit teammates from the same organization against one another or gather multiple teams from different businesses to compete in a Family Feud style. Either way, trivia games are a fantastic opportunity to answer popular customer questions in a fun, engaging way.

---

A solid golf game is almost as important as a solid pitch meeting, so why not test executives' putt at the show? Adding a mini-golf prize game takes absolutely no time to set up and can help prospective clients relax before your sales pitch comes. Offer small prizes for a hole in one or make a friendly competition out of who can make the longest shot or even the most in a row. This is a fun-easy way to engage with upper management in a way that many are familiar with.
We carry a large selection of trade show games including prize wheels, putt-putt, raffles, and anything else you might need to engage with your guests in a way that will be sure to help you stand out from other booths at the same convention.
What Kinds of Branded Promotional Items Work Best for Trade Show Giveaways?
Wireless Bluetooth speaker and headphones are an item used by nearly everyone, especially business professionals accustomed to long travel hours, morning workouts, or late nights in the office trying to focus on their work. These audio devices provide crisp, quality sound and can even include custom-printed logos, phrases, or company names to serve as a reminder with each use.
Power banks and charging stations can be a true savior, especially during long business days where prize recipients may be away from an outlet for 12 or more hours. Their phones, laptops, and tablets are exactly what keeps them busy, connected, and engaging with as many companies as possible throughout the day so by providing them with a quality, immediately useful tool to stay productive, you would be cementing your brand in their mind as one who has already solved one major problem and one who may be able to solve more.
LED desk lamps are a great fixture to send your prize-winners home with, providing ample light for their office space with the addition of doubling as a changing station. Giving someone another place to charge their tablet, phone, or other device and removing the need for them to hunt for an open outlet can be invaluable. Additionally, these lamps can include custom-printed graphics to work as a daily reminder to reach out to your organization.
If you want your booth to be remembered after the show, it helps to incorporate activities that stand out beyond the traditional product demo. Customers remember experiences far more than they remember a laundry list of specifications about your product, which they could just read online at a later time. By adding games, trivia, and interactive activities to your exhibit, you create an engaging experience that has your prospective customer actively participate in your event, building a sense of brand loyalty from ground one. Even better, by sending them home with branded devices that are actually useful on a day-to-day basis, your business remains at the forefront of their mind, especially when they are spending a significant amount of time reflecting on the event and deciding who they would like to hire to solve their respective problem. Use these tips and tricks to build brand loyalty, recognition, and provide more than just a product demo.