Posted on 18, April, 2017
Last Modified on 19, April, 2017
Shop Products from This Article
Choosing to use wall mounted retail shelving can be beneficial in a variety of different ways. It's easy to overlook the value of wall space in your home, office, work space, or store. Most retail shelving is easy to put together, and perfect for those of us who either don't have much time on our hands, or aren't the most handy with DIY projects. Have no fear, there are fun solutions available to make your life easier. Here we'll cover a few different applications you may not have thought of to help give you some inspiration when tackling your merchandise displays.
Staging a Spa or Salon Product Display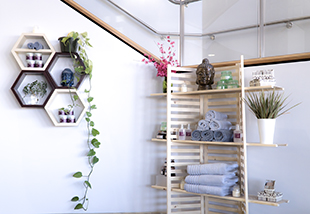 One of the more obvious ways retail shelving can be used is to highlight or display something of importance. Wall mounting fixtures can help you organize and set up an effective display at your spa or salon. Whether it's organizing different lotions and shampoos or keeping towels organized, retail shelving can help sell your merchandise but can also be used to create a calming atmosphere.
Pro Tip
Use shelving to highlight the products that your customer wants, and not necessarily the products that they already need. Customers respond well to things that they covet, and when merchandised properly they may splurge on something they want in addition to what they orginially came in your store to buy. It's also important to light your space appropriately to ensure your merchandise and display really pops. Customers are more likely to disregard a display if it is not illuminated effectively or if the display looks off centered and disorganized. Use shelving to present items on various levels, this creates a visually enticing effect for your customers and allows the eye to scan multiple objects in quicker succession. The less cluttered the better!
Organizing With Daycare Shelves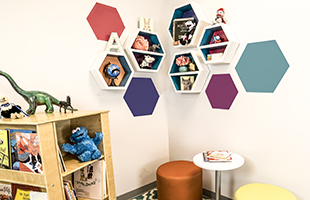 When staging a child's playroom or a daycare, the goal is to utilize space to your advantage and to help guarantee that when it's time to clean up, everything looks nice and organized. Shelving is often used to keep a space structured. There are tons of creative ways to do keep play areas tidy while making it fun and well suitable for children. Since retail shelving can come in numerous shapes, sizes, and designs, there's bound to be a versatile wall mounted shelving solution that's perfect for any space. Storage is especially important in a daycare setting due to the high possibility of the space becoming disorganized and cluttered very quickly. Investing in shelving options will help ensure a tidy and safe play area for children.
Storage That is Visually Appealing
Too often daycare storage solutions are clunky or unfashionable. Since retail shelving comes in a variety of styles, it makes storing toys and gadgets for children at daycare visually appealing. No more big plastic bins, or toy boxes overflowing with action figures or stuffed animals! Setting up wall mounted shelves will give your playroom or daycare a more inviting and pleasant feel, and it can often make an organized space look exciting and creative while actually providing you the benefit of a tidy play area.
Décor to Complement an Office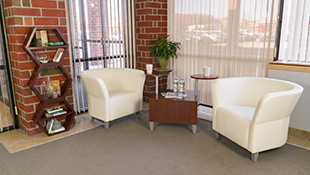 Though often an overlooked solution, retail shelving can act as an accent or unique decoration in a corporate environment. Add some flare to your office or home, and pick out fun shelving that you can use efficiently without sacrificing a sleek aesthetic. If you're working in an office, you can use wall mounted shelving to accent a front foyer or sitting area or to store/display books or other important items. It's no secret that keeping an office free from clutter is an uphill battle - investing in vertical shelving can be helpful, and enhance the look and feel of the room.
Accents/Décor
Since there are so many different types of shelving readily available, you can match wall mounted shelves to your other office furniture. Wall mounted storage fixtures can even be used as furniture itself. Keep the layout and existing furnishings of a room in mind when personalizing your space.
Effectively Merchandise Your Product in a Café or Coffee Shop
Utilizing retail shelving in a distinctive way can help make your coffee shop stand out to customers. Having merchandise staged at eye-level while someone is ordering could entice them to purchase the impulse items you have on display. Whether its bags of fresh brewed coffee, homemade snacks or products like expresso makers or teapots; having merchandise displayed in an eye-catching and unique way should be something you think about when staging your products. Place the most expensive or significant items for purchase in the middle of the display, and the small items on the top or the bottom. Products that you want to push the most should always be eye-level to your customer because they are most likely to make a purchase when an item is directly in front of them. Ever heard the expression "eye-level is buy-level"; it's true! Mugs and glasses of all shapes and sizes can be presented on shelves for the purpose of décor or for customers to buy or choose to use when enjoying their drink.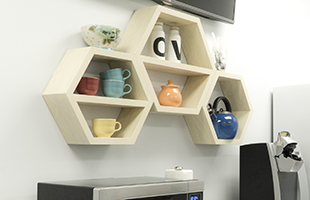 Using Shelving in Kitchens
While in a kitchen, retail shelving can be used for bowls, dinnerware, or even expensive china. The beauty of wall mount shelves is the ability to tie all of the elements of a room together. Use the vertical space in your venue to your advantage!
Showcase the "Smalls" in Retail Stores
In clothing boutiques and retail stores it's crucial to make sure merchandise is presented in the most effective way possible. The goal is to make your customers really need what you have on display. Using shelving in the proper way can help you accomplish the art of impulse merchandising and as a result; increase your sales. When thinking about how you'd like to display merchandise, it's important to ensure the smaller items don't get overlooked by larger goods. Use your shelving to help you strategize placement as well as to help showcase the smaller pieces customers may sometimes disregard. Items like purses, knick-knacks, or shoes are ideal items to feature on retail shelves. Mix and match floor standing clothing racks and wall shelves with small items to really make your store display pop.
Highlighting Special Items
Looking to drive people to purchase new or sale items? Displaying your merchandise with wall retail shelving in the optimal location for a customer can make a huge difference. Something else to consider: Place a totally unrelated object on display with the product you're highlighting. This makes customers ask themselves, "Why is this here"? As a result, you've been noticed. Product placement and showcasing smaller novelties are essential for success in any retail setting.