Posted on 30, April, 2021
Last Modified on 05, May, 2021
With an increase in attention being given to public health in high-traffic social spaces, innovation in sanitization has been at an all-time high in order to keep up with the concerns of consumers, business owners, and EPA guidelines. Now, more than ever, businesses are taking advantage of exciting instruments like electrostatic disinfectant sprayers to help combat the spread of infectious diseases. If you're in need of handheld sanitizing equipment and came across one of these devices it may have left you with some common questions about the technology behind it and its application to fighting germs.
What are electrostatic disinfectant sprayers and how do they work?
Electrostatic sprayers aren't a new technology, actually, they have been used in other industries for decades to paint cars with an even coat or for crop spraying. Tried and true, and when paired with a suitable, non-gel disinfectant solution, you can be sure that an electrostatic disinfectant sprayer will administer the most complete and uniform coverage possible out of any other product on the market today. These devices take the liquid solution inside of them and combine it with air, using a small electrode inside the nozzle itself to give the liquid an electric charge while being released. The now positively charged, atomized disinfectant bonds with any negatively charged surface, which put simply, will be the vast majority of areas within your home or business . Not only does this method allow your disinfectant to coat a surface more evenly, but since it is a spray, you can cover a much larger surface area in a much shorter time frame, which is ideal for fast-paced environments such as restaurants, bars, or retail outlets.
What Are the Benefits Of Electrostatic Disinfection Over Spray Bottles or other Methods?
While using traditional spray bottles, disinfectant wafts into place, pooling in some areas or missing others all together, making it difficult to reach any nooks, bends, or tucked away areas effectively. Electrostatic disinfection sprayers are better able to reach places such as the spaces between a shared keyboard terminal or between the curves and grooves of a stroller while still providing the most consistent coverage over large areas.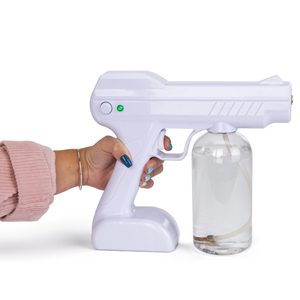 Benefits of Electrostatic Sprayers:
Save time by covering larger areas with less effort & more consistent coverage
Thoroughly disinfect spaces that are difficult or impossible to reach with other methods
Controlling and preventing of the spread of viruses like influenza, COVID-19, and others
More consistent control over where the disinfectant lands, leading to less waste or overuse
The even layer applied dries without needing to be wiped down with a rag, further limiting the amount of surfaces you and you staff need to touch in order to get the job done well.
Of course, besides the benefits of using an electrostatic disinfectant sprayer over other methods, by thoroughly cleaning your public spaces you reduce the risk of liability if a customer gets sick in your place of business, reduce the number of workplace illnesses, and increase the trust of both customers and employees who can see that you have their best interest in mind.
Is Electrostatic Cleaning A Good Option For Your Business?
Odds are if your business has any high-traffic customer-facing environments then it can benefit from electrostatic disinfectant sprayers. This is true even for corporate office or warehouse locations with many high-touch, publicly shared terminals such as computers, punch card stations, or breakrooms. In short, if you have any common area with plenty of foot traffic, or business features that are utilized by multiple people throughout the day, then you most certainly can take advantage of one of these devices.
What Companies Use Electrostatic Disinfectant Sprayers?
Schools and universities
Office complexes and business parks
Doctor's offices and hospitality
Gyms, fitness centers, and sporting venues
Commercial kitchens, restaurants, and bars
Any form of public transit including subways and airports
In reality, almost any industry can benefit from a streamlined method of cleaning mass areas of their business. Using an electrostatic disinfectant sprayer between shifts or at regular intervals throughout the day will take seconds or minutes for each application rather than the ample time it would take to have an employee spot-clean every surface. These types of devices will save your business valuable time and, most importantly, offer a more comprehensive and complete cleaning of publicly utilized space than any traditional method on the market today.