Posted on 16, June, 2015
Last Modified on 18, August, 2015
Our local business partners are using our displays to make a real impact!
Lang's Bowlarama
Located in Cranston, Rhode Island, Lang's Bowlarama is putting POS & marketing displays to work for their business in the best possible ways. The successful bowling alley boasts an incredibly fun and fresh brand, with much of their signage and imagery revolving around a retro-inspired theme. The business was started in 1960 by the now-owners' grandfather and throughout the years, both the business and family continued to grow with it. Today, Lang's is still thriving. The business's intelligent use of display products and marketing supplies only contributes to this success!
If you operate a small business and are wondering how you can put some marketing displays to work for your brand, Lang's Bowlarama is a great example to follow. We're going to dive into the specific displays and signs this family-business uses, even taking it a step further to help generate ideas for your specific business. You don't have to operate a bowling alley for this to work - the fundamental marketing concepts behind Lang's use of in-store displays are something that every business could learn (and benefit) from!
Displays Done Right
When you walk into Lang's Bowlarama, you're greeted by snazzy light fixtures, groovy music, the distant sounds of crashing pins, and, of course, an eclectic array of marketing displays. From tabletop menu holders, to reception desk signage, to suction cup window sign holders, there is no lack of point-of-sale signage at Lang's. The beauty in the use of display products here is not just their quantity, however. The printed signs held in each display are incredibly cohesive in their branding. You know looking from one sign to another that the graphics come from the same business, and their consistent use of color and imagery contributes to the charming vibe of the establishment. Serving as a mascot of sorts, some cute retro bowling girls make an appearance on more than one sign throughout the alley. Even the menus that sit on almost every table at Lang's drive the brand home to their customers. Let's dive a little further into the three categories of marketing displays used at Lang's Bowlarama:
Tabletop Anything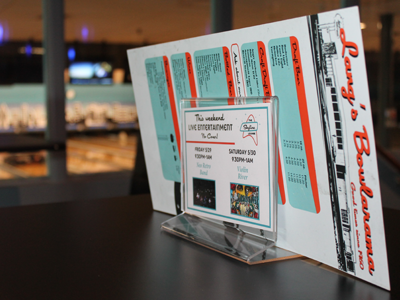 At Lang's Bowlarama you won't see a pub table without a restaurant menu display sitting on top. This double-sided acrylic stand holds 2 small signs with a full sized menu slid in between! The bowling alley uses these stands to advertise upcoming events, showcase drink specials, and to simply hold their bar menu. But why is using tabletop sign holders a smart move for other businesses, not just super cool bowling alleys? This type of POS marketing, though subtle, has the power to make a real impact on your business's sales. From restaurants to retail clothing shops, little sign holders make a big statement! Use them to announce sales, push products that may not be selling the best, or showcase new additions to the menu. The key to this successful marketing tool is their visibility. Placing the sign holders in very visible locations - in Lang's case, on all of their tables - ensures that they will be seen by customers and the signs' messages processed.
From the Window… To the Wall!
What do you see at Lang's before you even enter the building? A window sign display advertising the business's season hours is attached to every glass door. Walking inside towards the shiny lanes, you see another mounted sign, this time on a wall post. The poster inside it advertises the alley's events business, with the call-to-action "Call Dayna to get the ball rollin'!" Similar to the highly visible nature of the tabletop displays previously discussed, this hanging poster holder drums up additional business from current customers with ease. Some call it a cross-sell - this type of marketing essentially promotes goods and services to customers who are already buying from you, and it's a successful strategy when done right! Every business can benefit from window or wall signage. These inexpensive displays are also incredibly convenient for tight spaces because they don't take up limited floor or counter space!
Bright Lights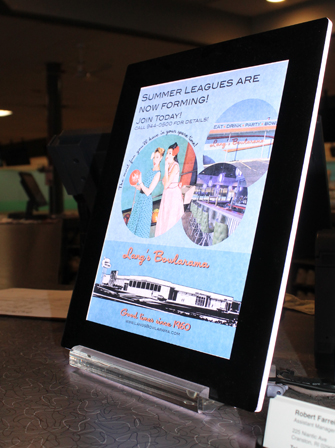 Getting your customers' attention is half the battle when it comes to in-store marketing displays. Lang's uses LED lightbox-style signs that glow beautifully under the dim lighting of the bowling alley. If these illuminated frames don't get customers' attention, then I don't know what will. To get a message to really stick with customers, marketers need to pull out all the stops, just as Lang's has done with these attention grabbing displays. With a lighted frame on both the reception and grill counters, there is no way bowlers can miss them. If an LED sign holder isn't for you, other lighting solutions like spotlights are great ways to get attention! Above all, make sure your lights aren't obnoxious or shine into guest eyes. The goal is to get your customers' attention, not annoy them!
Make it Stick
While these marketing displays may seem small and insignificant, believe me, they pack a punch. The plain and simple truth of it is that your customers are hard to reach! They are conditioned to ignore the traditional advertising of our day. Just one countertop frame or poster advertising your business's mission is just not going to cut it in the modern age. Without overwhelming the customer, these displays allow business owners to present a consistent, united front to their target market. The more times the customer is exposed to a particular message, the more likely it is that this message will stick. Strategic use of some of the signage discussed in this article can get you well on a way to making a lasting impact with your customers and building your business!