Posted on 22, May, 2019
Last Modified on 29, May, 2019
Shop Products from This Article
It's the question on every marketer's mind: "Is print marketing dead?"
Well, "dead" is a strong word. It's no secret that print is no longer the primary medium for consuming information. We now get our news in the form of News Feeds instead of newspapers and send text messages or Snaps instead of penning a letter to a friend. On the surface, it appears print has become a victim of natural selection and digital media has taken its place. Print marketing, however, is not extinct. It has simply evolved to play an important supporting role in our media landscape.
Digital Media is Taking Over
The internet has become the cornerstone for many brands' marketing efforts. Common channels like email and social media are much more cost effective and easier to track than traditional mediums. The good news is that the success of the web is only doing more to enhance the print marketing experience.
An effective marketing strategy is integrated across all mediums — meaning the imagery and messaging should align to build a single brand that is instantly recognizable. While your campaigns should still adapt to each medium to be effective, staying "on brand" with cohesive cross media campaigns can make each individual message more effective than the last. For example, if a customer sees an ad on Facebook, and then sees a similar campaign in their email inbox, they will be more likely to recognize your brand in that email.
You may also have an email campaign that links to social initiatives or vice versa. Your catalog or brochure isn't any different — in an integrated marketing campaign, the pages of your catalog should mimic the style you present online, and complement your other marketing efforts.
Get Them to the Landing Page
A campaign is only as good as its landing page. The same applies to print marketing. - Click to Tweet.
You might not think of magazines or flyers as having landing pages, but consider the next steps you want your reader to take. Do you want them to contact your firm, RSVP for an event, visit your website, or place an order? The truth is that print isn't that different from other mediums when it comes to marketing - it's all about moving a customer through their journey to ultimately convert. When designing marketing materials, think about your intent and craft your messaging to convert readers.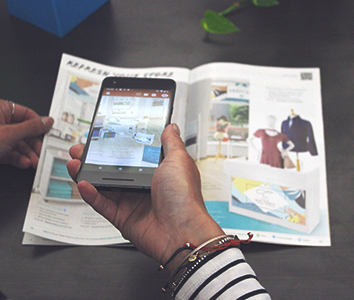 One great way to lead customers online is by including QR codes on your flyers and catalogs. QR codes can be scanned by a user's smartphone to open personalized web pages or apps - turning a physical page into an engaging digital experience. With a QR code, you can make a catalog shoppable, direct leads to a sign up form, or even play a video. When using QR codes, remember that the destination will almost always be accessed via a mobile device, so it's best to only use these if you can lead your customers to a page or experience that is optimized for mobile.
Companies like Zappar are even bringing augmented reality experiences to print - allowing you to add video, audio, and 3D imagery to catalogs and flyers via a user's mobile device. You can see Zappar in-action when you open one of our recent catalogs.
While the landing page is important, do not forget that handouts can also provide significant value to your readers by themselves. Print is an excellent medium for informing customers, especially with longform content. People tend to have much shorter attention spans with digital marketing messages, but can take more time to process print materials and remember the information better. This means you can share more information on print, and it is more likely to leave a lasting impact on your readers.
Advantages of Print Marketing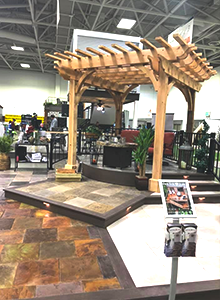 Trade show exhibitors are starting to go paperless in their approach to connecting with their visitors. While this eco-friendly initiative works great in theory, there is just one problem: people still want flyers. They don't want to wait for you to send them digital PDFs and e-books weeks after the event. Visitors often prefer to have physical copies of materials to look through during and after the event. By the time they receive the digital version, chances are they've already forgotten about you. If you want to stay top-of-mind, it's best to give visitors print materials like brochures and business cards, which are more likely to leave a lasting impression than a random LinkedIn connection or an emailed whitepaper.
Printed materials are especially useful at events like trade shows and job fairs, where attendees don't always have time to give every booth their full attention. Handouts like brochures and worksheets allow your industry peers to collect more information on the floor which they can process and filter through later. And if your flyers are eye-catching, engaging, and have excellent landing pages... they can really make you stand out among the competition.
Think of your flyers as a condensed version of your booth, and use them to transition customers to the next step in the buyer's journey. - Click to Tweet.
Distribution Is Key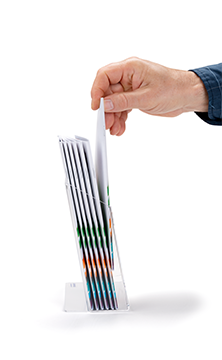 A step that is often overlooked with a brand's print marketing strategy is distribution. Once you design your marketing materials, you need to consider how you will get them into the hands of your customers and prospects. It's not enough to simply lay pamphlets out flat on tables or to keep a stack of business cards in your desk drawer. To ensure that people see your flyers, place them in high traffic areas like point-of-sale and point-of-purchase locations. Think about where handouts may provide the most value or relevance to your readers, and where they are most likely to be read. For example, when a customer is checking out, they might want to learn more about how they can save money through your store's loyalty program. Here, you can place a brochure that conveniently informs them of the details of your program and leads the customer online to where they can sign up and ultimately convert.
Don't make prospective clients and potential business partners ask for your business card - present your cards on your desk for them to take. Literature displays are all about eliminating friction. You want your customers to see the information available to them and easily access it. They should walk away with more answers than questions, and more opportunities to connect.
If you're looking for a better way to present your flyers, magazines, and business cards, Displays2go has hundreds of literature display options for any placement and any size — many of which can even be custom-printed to show off your brand. For inspiration, check out the customer-submitted photos below.