Posted on 05, January, 2018
Last Modified on 12, January, 2018
Shop Products from This Article
As a modern retailer, you face the constant challenge of adapting to the needs and style of your customer base. You have a specific type of image you want to convey (maybe more than one) - or way you'd like to be perceived, and the pieces within your store couldn't be more important in accomplishing this. A retail space should be seen as a blank canvas in the sense that you, in this case as the consumer, have the ability to create an environment that speaks to your style, personality, and complements the merchandise you're selling. This article delves into the world of design, and discusses what each style "personality" could bring to your environment. Maybe you're all about one look or maybe you'll find that your taste is all over the board - mix and match features from any of these styles of design to create the ideal environment you're looking for!
Boho/Vintage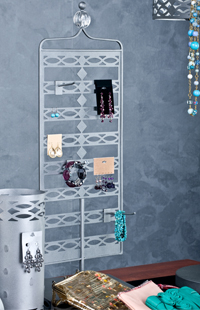 With a boho/vintage environment, achieving a laid-back and casual space is the goal. Fill the room with pieces that are eclectic, even a little worldly that add character while selling your retail merchandise. Mix and match fixtures throughout your space that all look a little different but come together to create a soft and delicate appearance. Oftentimes with vintage pieces, they have a distressed look- whether that be paints or antique metal. Bring in the pastels or eclectic color combos of bohemian textiles for a brilliant juxtaposition against your muted antique textures. This combination of materials creates an inviting design scheme that can bring customers a sense of calm while they browse through your merchandise.
Traditional/Classic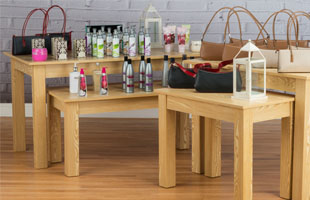 Inspired by 18th and 19th century European décor, the ultimate aim of a traditional/classic environment is to cultivate an elegant yet comfortable feel- all coming together with pieces that yield a timeless style. Create friendly charm with fixtures that have a variety of textures and patterns like floral print or toile textiles. Pieces with elegant curved lines and handcrafted, molded elements add character and dimension without losing the welcoming aura you're looking to achieve. Your environment should be full looking- both physically and visually to complete the traditional/classic design aesthetic while displaying your retail merchandise. Customers will feel the inviting atmosphere and appreciate the timeless style you create.
Modern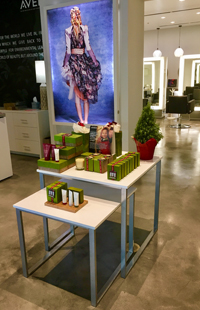 Very popular right now, a modern design aesthetic is created via a "less is more" approach - without lacking functional elements. Looking back in history, nothing was considered "modern" unless it had features that leaned towards practicality. A modern environment typically has pieces with minimalistic structures, simple colors, and clean crisp lines for a sleek finish. To achieve a modern feel in your retail space, establishing a more open environment is essential. While displaying merchandise, avoid cluttered shelves and racks - remember less is more! Try creating simple retail displays, allowing the products to speak for themselves. Customers will appreciate the simplicity and class of a wide-open shopping environment.
Industrial Rustic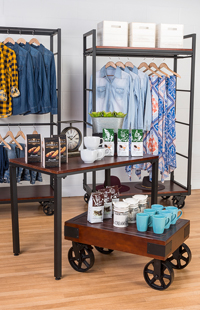 Think pipeline and earthy structural features! An industrial rustic environment focuses on blending strong, clean, metal structures against brick walls or nature-inspired textures. These earthy pieces often include unfinished raw elements like wood, stone, or rugged materials like cast iron that create an interesting and engaging retail space. Combining the rustic elements with strong metal adds straight up character to your establishment. Pairing industrial and earthy features delivers an old-world, cozy & cool component that validates the "now factor" of your product for your customers while they browse through your retail merchandise.
Minimalistic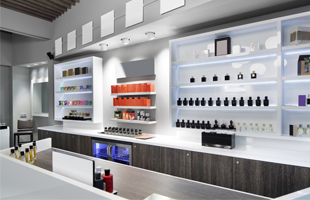 Similar to the modern aesthetic, a minimalistic style takes simplicity to a whole new level. The main goal of minimalistic design is to achieve simplicity through design, whether that be as the result of the color scheme you choose or the pieces you use to display your merchandise.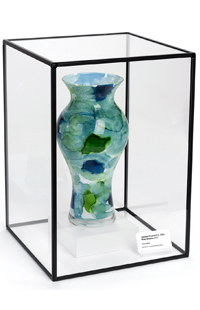 Typically, spaces with this style have lots of white and have very little detail - you won't find crazy prints and textures with this style! When creating a retail space with minimalistic attributes, think "no-nonsense". Simple shelving with bright white or black pieces go a long way showcasing your products. Like the modern style, with a minimalistic environment, the merchandise truly speaks for themselves. The minimalistic aesthetic can bring a sense of understated calm to your establishment that encourages focus on what you're selling. Eliminate the paradox of choice!
Traditional Rustic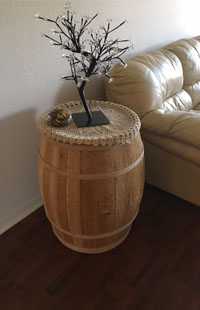 With a traditional rustic approach, the ultimate goal is to create a timeless style mixing earthy design features. These nature-inspired elements often include country-themed prints, toile, and ashy wood grains. Similar to the traditional/classic style, traditional rustic is often full - both physically and visually. It's best if you fill your retail display with ample product to create the "full" atmosphere in your establishment. There are lots of different patterns and textures that go into this design aesthetic, and mixed with the soft wood elements, it becomes an inviting environment for customers browsing through your merchandise. Think chalkboard signs, mason jars, burlap and country apple barrels!
Techy/Streamlined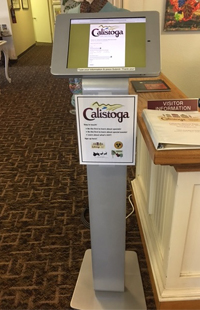 All innovative, all futuristic, all day! A techy/streamlined style focuses on integrating the latest technology while keeping a simple appearance. Not unlike a modern or minimalistic themes, techy/streamlined environments often feature lots of white, black, and simple color schemes (throw some blues in there to really speak the language). Mix and match some curved design features with clean sharp lines and flat surfaces, as opposed to molded edges to create a sleek looking place to display merchandise.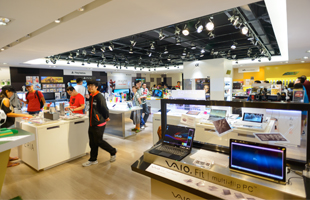 Your target audience will likely respond well to the revolutionary features of the pieces within your display, and the innovation behind showcasing your products can help make them stand out.
Which Personality are You?
Who says you have to pick just one? Mix and match attributes from multiple décor styles to create something that tells your story. It's so important to build a space that represents how you'd like to come across to your target market, and truly understand what types of pieces enhance your merchandise. Experiment with different textures, patterns, and rustic elements — or stay minimalistic. No matter what your personal aesthetic type is, it's a reflection of you.
Find out what your retail personality is. Take The Quiz!