Posted on 01, December, 2017
Last Modified on 26, February, 2019
Shop Products from This Article
Making the vendors you host happy can be a daunting task for trade show organizers. Not only is becoming a sponsor expensive, but it's a lot of work - and as the venue host, you can't guarantee a return on investment. What you can do is give exhibitors the tools to tell consistent brand stories through creative sponsorships. That's where ROI dreams become reality. To this end, we came up with a short list of must-have trade show product lines. These are our top 5 trade show sponsorship products which can be used to say who a business is, what they sell, and why they are important.
1. Ceiling Hanging Banners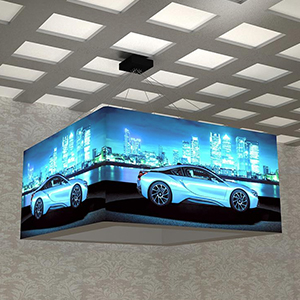 Ceiling hanging banners are a great display solution in big convention centers. This signage frees up floor, counter and wall space. They are installed overhead for maximum visibility across a large-scale room. Ceiling mounted banners are constructed of stretch-poly fabric that can be customized with eye-catching logos, taglines and artwork. Since trade show floors are packed with visitors and exhibitors, it can be hard to find your way back to your booth if you step away. Advertisers who use ceiling-mounted signage make it easier for guests to return to their show space - all they have to do is look up! Graphics pop thanks to full color dye sublimation printing that saturates the fabric with vivid color.
2. Charging Stations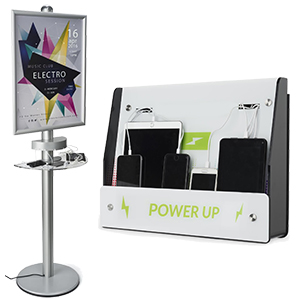 Wall mounted & floor standing branded charging stations provide a service that most visitors need, while spreading the word subtly about your brand. Event attendants will be relieved to find a charging station to power up their dying cell or tablet battery. These stations are equipped with a certain number of charging cords for Apple™ or Android devices. While your guests are charging up and lingering around your booth, it's a great time to seize the opportunity to start a conversation.
3. Custom Floor Decals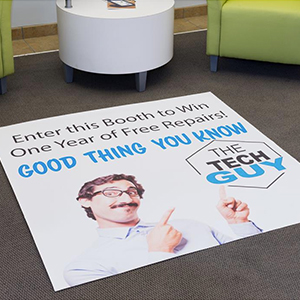 Custom printed floor decals are a low-cost sponsorship opportunity with high visual impact. They can be placed anywhere, but are typically used at the entrance of a booth, exhibit space, or building corridor. These decals are available in varying sizes and most feature a non-slip texture for better traction. The vinyl artwork features full-color UV digital printing for a vibrant "foot print". Placing decals at key transition points will help visitors find your booth. The decal can be re-positioned once placed, which means you don't have to get it perfect on the first try.
4. Floor Standing Digital Signage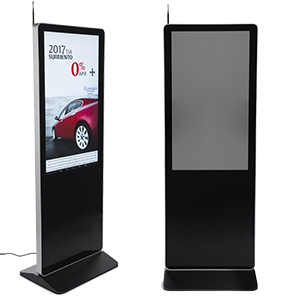 Wayfinding & informational floor standing digital signs are a dynamic promotional tool that incorporates static messaging (logos and taglines), slideshows, and interactive branded content. Some single or double-sided digital poster stands come with literature trays for distributing printed collateral. This is a great way to deliver important brand or product information that guests can refer to when they get home. Truss stands are popular with trade show participants because even large stands are collapsible for easy transport. Memorable electronic signage gets visitors into your booth and engages them immediately..
5. Custom Furniture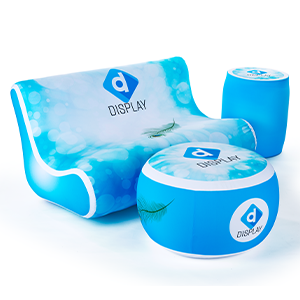 Sponsored custom furniture can be placed strategically throughout a convention hall for impromptu conversations and to encourage attendees to rest. Branded messages on seating are subtle ways to keep visitors connected to the brand, even if they don't visit a company's trade show booth. Vendors who sponsor special VIP rooms and events can incorporate displays that encourage people to linger. Getting more people into a show space gives the impression a brand, goods and services are interesting and worth checking out.