Posted on 18, June, 2018
Last Modified on 19, July, 2018
1. Camping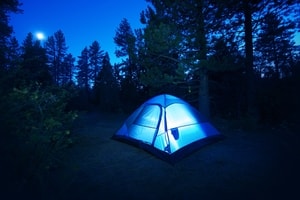 Whether you're backpacking through the Rockies or out in the backyard, mother nature makes movie time quite challenging. Create your own outdoor theater simply by using a Pico Projector, it is as simple as hooking up a phone and playing your movie of choice on any corner of the tent. Most Pico Projectors come equipped with speakers and have at least 2 hours of battery life, so the only precaution that needs to be taken is making sure you don't play the movie Dances with Wolves too late at night.
2. Cookie Decorating
Creating elaborate culinary designs by hand with paper or stencils is now a thing of the past. Step into the 21st century and simply input your image of choice on a phone or computer and project it through a Pico Projector onto your cookie or cake. Personalization of pastries has never had so many options!
Check out elaborate cookie designs at: pinterest.com/explore/decorated-cookies/
3. Gaming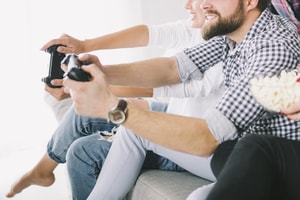 With video game graphics coming close to mimicking the true singularities of life, they are as close as ever to movie quality. Pico Projectors can hook up to your gaming system and allow for large audiences to watch. The possibilities are nearly limitless, whether you want to share the excitement of playing Mario Kart at a party or fight life-sized foes in Battlefield Campaign mode. No more crowding around a small TV to get your game on. So, sit back and watch a life sized version of all your favorite games.
4. Shadow Puppets with Interactive Backgrounds
Bring your children's imagination on a tour of the world with a Pico Projector. You can tell stories with shadow puppets ranging from settings Under Water to Saturn's 4th moon. Instead of relying on scripted movies, these portable projectors allow for creativity to run wild and for a new improvised motion picture to be shot, directed, and released every night.
5. Skype "Jedi Style" with Your Loved Ones at Dinner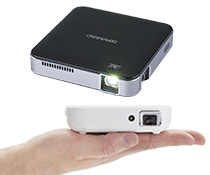 With the mirror function on the Pico Projector you can Facetime/Skype with family on the big screen. Full family dinners with children away at college are possible! Playing charades with half the group in Boston and the other half in Seattle has never been so easy. The only thing that you must worry about is when pesky Kevin goes off screen to give his team more points in Pictionary. Come on, Kevin! No cheating!
Honorable Mentions
Painting a mural
If the Catholic Church had a Portable Projector at their disposal when the Sistine Chapel was being decorated it would have saved them quite a lot of money with Michelangelo being so name brand. The Church could have just projected an image onto the ceiling and sketched it themselves. Unlike the Catholic Church in 1512, small and large business alike today can easily and affordably sketch their own designs in office spaces to create unique and aesthetic murals.
DISCO!
If you're having a work party, family get-together, or just want to get groovy, a Portable Projector can be your saving grace. Simply set the projector to a light display (can be found on YouTube or made by yourself) and project it onto the ceiling or walls. Now you have a room full of color that is ready for some John Travolta inspired strutting!
How much are Pico Projectors?
Prices and Descriptions right here!