Posted on 10, March, 2015
Last Modified on 17, March, 2015
Most people think about business card holders only as a way to distribute contact information for their company or organization. Calling cards are given out to potential customers and clients as a means to indirectly improve profits--mostly by generating new leads. But did you know that some business card dispensers can be direct money makers? The average person might overlook this idea, but the following article will give you some insight into the process while providing you with an edge over your competitors.
Select the Right Dispenser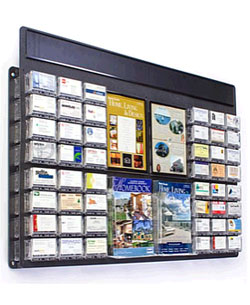 When using a multi-business card dispenser to generate income, it's a good idea to consider the number of available pockets. We generally suggest 12 or more pockets for this type of application. You'll also want to determine if you need to use some of the compartments for your own business cards or if you can devote all the space toward income generation. In short, more pockets mean more income. So let's start making money!
Contact Local Businesses & Service Providers
Get in touch with local businesses, services, and attractions to find out who is interested in advertising at your establishment. Many retailers refer their customers to unrelated/non-competing stores when they do not carry the products their customers desire. Hotels are an ideal location to advertise local attractions, famous landmarks, well-known stores, and nightlife options to guests. Visitor centers and rest areas frequently do the same thing and enjoy excellent results.
Choose a Prominent Display Area
Decide on the best place to hang the business card rack. Always consider the most heavily trafficked places in your business, like entryways, foyers, common areas, and exits. In fact, the more public the area the better. Many retail stores, restaurants, offices, hotels, and visitor centers have already experienced a great deal of success by hanging the racks in these high volume areas.
Make Money!
Negotiate a flat or recurring fee with interested businesses for each calling card display compartment. Keep in mind that the more cards a pocket can hold, the more value your partners will get. Either way, many businesses will want to pay a monthly installment while others may only want to advertise for a short time based on a finite number of cards. The bottom line is to be flexible, so businesses will want to partner with you no matter how big or small they are. Ultimately the more foot traffic and available pockets you have, the more negotiating power you will have. Just make sure you have the details of the deal worked out ahead of time and plenty of cards to keep those pockets filled.
Build Community
The main advantage of renting space in your business card display is to generate extra income, but a great bonus is the sense of community you will be building. Any savvy business owner knows that individual economic success is directly contingent upon the economic success of their community. You may even encounter another business that had a similar idea. Rather than charging them to advertise, consider a trade. Supply them with your contact information while you promote theirs! It's easy to see that a multi-business card dispenser can be more than just an investment--it actually gives you a great deal of negotiating power and makes your business stand out in a sea of other establishments!