Posted on 31, October, 2018
Last Modified on 01, March, 2023
Shop Products from This Article
Stores use retail counters to check out customers, feature merchandise, and store supplies. With full vision, half vision, and extra vision display cases, there are a lot of options for merchandising furniture. But what's the difference between these styles of showcases?
Full Vision

Display cases that only have space for displaying merchandise. The entire interior is visible to customers.

Extra Vision

Full vision showcases with tempered glass panels on every side with a clear or opaque back. This design makes merchandise easy to see from multiple angles.

Half Vision

Cabinets that split their space between product display and storage for supplies. Half of the internal volume is visible, while the other half is hidden from view.

Quarter Vision

Merchandise cabinets with a small area for showcasing products and a large capacity for storage. The display area is typically located at the top of the case.

3/4 Vision

Three quarter vision showcases have a large area for merchandising. These cabinets may have a sturdy finished base with a kickplate or a small area for storage.
Full Vision Display Cases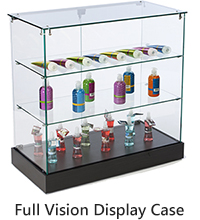 Store counters that dedicate all of their space to featuring merchandise are considered full vision showcases. These retail cabinets have large merchandising areas that reach from the floor to the top of the fixture. Full vision display cases maximize the amount of electronics, jewelry, and antiques that can be featured in one area. Fabrications include 100% tempered glass panes with a frameless design or black MDF panels that obscure wares from the sides. As long as all the area is made for displaying merchandise, it's considered a full vision display case.
Extra vision display cases feature tempered glass panels on all sides for eye-catching presentations. These cabinets are excellent for showcasing high-interest merchandise because it can be viewed from any angle. The retail stands are often used in stores that sell the latest electronics, vaporizers, and high-end jewelry. With tempered glass tops, shelves, side and front panels, extra vision counters makes stock easy to see. Frameless displays truly maximize visibility by removing all barriers between customers and products.
Half Vision Cabinets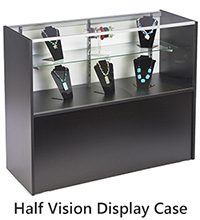 Merchandising cabinets that use half of their space for displaying wares are called "half vision cases." These showcases often feature hidden areas for storing supplies out of sight. Other units simply feature a half vision design to place merchandise closer to customers' eye line. This style usually puts items at the top for better visibility while keeping the storage section at the bottom. Half vision showcases create an equal area for featuring wares and securing supplies.
Quarter and 3/4 Vision Display Cases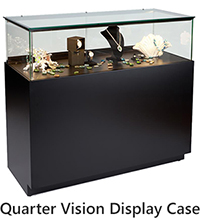 Display cabinets with a small area for merchandise are called "quarter vision." These furnishings are specifically designed for smaller valuables, making them perfect for jewelry. Necklaces, earrings, and bracelets are featured on one shelf at the top of the showcase. These jewelry counters typically have an upscale design and large secure areas for storing stock out of sight.
When most, but not all of the space in a display is used for featuring wares, they're called 3/4 (three-quarter) vision showcases. This style of store fixture may have a solid base or a small area for storage. With these 3/4 vision display cases, selling merchandise is the first priority.
It's important to choose a display case that matches the needs of your location. Full vision and extra vision showcases feature the most wares in one place. However, because some products are close to the floor, they may be hard to see. Half, quarter, and 3/4 vision cases keep merchandise closer to eye level at the cost of featuring less stock. Consider your store layout and needs when deciding on merchandising counters and cabinets.