Blade Banner for Trade Show Use or Exterior Sign Applications
What kinds of locations are most ideal for blade banners? Due to the variety of base styles, features and custom options each fluttering sign offers, the wave banners are perfect for implementation anywhere! In fact, the blade banner is one of the most favored ways to share advertisements indoors and outside. Advertising tools are an essential purchase to consider for any company, as prospective customers and casual onlookers are easily drawn to vibrant signage. This blade banner, or trade show sign, assists organizations and businesses with increasing brand recognition, expanding client bases and garnering publicity. A bonus of these displays is that they can be custom printed with symbols or text in order to get bystanders to attend special events or buy specific items. In addition, many of these blade banner signs can be purchased with flag poles and hardware for total advertising solutions. A lot of establishments place wave signs in storefronts to bait customers. Moreover, uniting a custom blade banner with a stand provides a complete yet flexible marketing method. Our advertising displays are manufactured from only the highest quality materials, and their portability supersedes that of comparable systems. Displays2Go.com sells this blade banner in every configuration and size, so you can be sure you are getting the display that suits your exact needs! Have a look at our extensive catalog to discover the best displays at the lowest prices.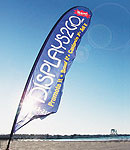 These blade banners are diversely designed for use at events from outdoor festivals to indoor trade show expos. These blade flags are also set up at other affairs, like surf competitions or golf tournaments. These flying displays are even optimized for average to moderate weather conditions. Wind, rain and snow are no longer obstacles with these blade banners. A lot of times, gusty winds wreak havoc on blade banners, but these flags are built from the strongest materials in order to avert damage. While some stands allow blade flags to become entwined with the center support, our banner stands have the ability to pivot with the wind. This capability keeps the structures from falling over and prevents blade banners from getting tangled. Another advantage of this feature is that the spinning motion captivates viewers. With our sturdy blade flag hardware, users can be sure their flying flags are clear and legible. Set up blade flags and wave banners versions to keep your heat-transfer or digital prints visible.
Why buy from this advertising blade flag display company?
The massive selection of configurations supplies every organization with the options they need. Having the proper equipment can make all the difference.
These solutions can be ordered with or without hardware, so customers that already own the necessary tools can buy updated images or have graphics replaced.
Custom printed digital, silkscreen and dye-sublimation are provided by our company and can help create individual and professional blade banners.
Because our digital and screen printing facilities are on site, vinyl graphics are readily completed and shipped out. Getting everything you need from the same supplier is much more convenient than scouring the web for suitable trade show displays.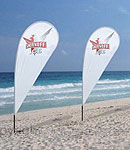 What traits allow these blade flags for business to last in outside conditions?
The designs of these blade flag signs weigh astoundingly little and offer straightforward assembly. Several base choices also allow the units stay upright, whether they are set up on grass, sand, soil, concrete or other surfaces. Transport cases are typically enclosed, making relocation even more effortless.
This blade flag is often united with targeted wave banners printed with symbols or wording. Each sign is treated to weather the elements. The stands are also expertly engineered for years of use.
Some of these affordable blade flag stands are equipped with arms that keep wave pennants taut even when the wind is less than adequate.
Our best selling flagpoles rotate with wind gusts to avoid destruction of the units. These offerings are a very sensible choice, as they maintain stability throughout high winds. Try to find quality like that anywhere else! Another benefit of this spinning motion is that it keeps customers' eyes trained on your messages. Take advantage of this feature and focus more attention on your displayed sign with blade flags.
This flying blade flag for use in front of buildings catches everyone's attention. A bowhead sign lets passersby know that a particular establishment is open for business. Store pennants are exceptionally strong, and the vivid colors turn heads in any environment. This display is perfect for promoting new merchandise or coming attractions throughout several areas, as it can be rearranged without difficulty. Pick the most functional fixtures to add more versatility to your promotional strategy. Astound consumers with extravagant messages that make them want to buy your offerings!
The available printing options are as varied as our customer base, and we attempt to offer enough information to make the best decisions. Digital printing provides the most flexibility when designing emblems or logos for you sign. These prints do not require minimum quantities, which is popular among our shoppers. Because no company can assure exact colors (as every computer monitor coloration can vary), we advise the use of Pantone® colors to ensure the closest possible color matches. Dye sublimation is another factor to consider, as this process results in the vibrant and durable blade flags. Either option can be plain or ornate in layout, so you have the freedom to create any kind of presentation. Some companies want signs that make use of basic solid backgrounds with their emblems, while other businesses want more intricate emblems.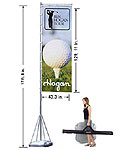 The other method for printing blade flags is vinyl silk-screening. Heat-transfer vinyl imprinting is available on most of our signs. This trade show signage allows for a choice of 1-color or 2-color printing from nine different shades. There are some restrictions on designs, so be sure to view the vector artwork link for details regarding the submission process. When designing with vinyl colors, think about how the images and lettering will look on the actual canvas. Single color printing works well for many advertisements, and sometimes a single color graphic is more pleasing to the eye. This blade flag choice is generally easier to read than chaotic digital representations. If your logo has overlapping shapes, then 2-color printing may be the better option. Please note that most vinyl styles require a minimum order of ten units.
Displays2Go.com is a leading custom advertising blade flag manufacturer. We sell swooper, teardrop, trade show, feather, popup, flying, wave and other advertising banners, as well as their poles and hardware. If you have any questions concerning your order, our customer service representatives can help Monday through Thursday from 8 a.m. to 6:30 p.m. and Friday from 8 a.m. to 5:30 p.m. EST. You can also call 1-800-572-2194, or while online, participate in a live chat with one of our staff. If you are occupied during business hours, send an Email, and we will respond as quickly as possible. We maintain several fully-stocked, on-site warehouses that allow us to offer same-day shipping on most items. If your order is in stock and placed before 3PM EST, it will ship the same day. Same-day shipping is unavailable on freight-shipped orders or items that require customization. Order today from our massive selection of flying banner and trade show displays to effectively publicize events, competitions or sales!