Wire Countertop Brochure Holder Provides Sturdy and Durable Performance
---
Metal Tabletop Racks for Brochures, Books, or Artwork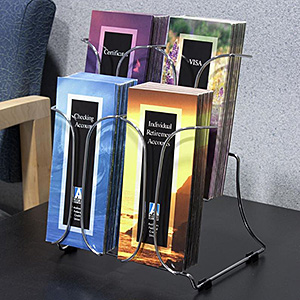 Nothing says "durable" like steel! A wire countertop brochure holder offers excellent stability and dependability. Whether it's a single or multi-pocket style, our literature stands are designed to withstand frequent use. This is the reason why the wire countertop brochure holder is such a good traveling companion. Setting up at a book signing or an outdoor art festival? These rugged steel stands (especially the multi-pocket models) transport well thanks to their fold-flat designs. Of course, if you just plan to display tri-fold pamphlets, that works too! Our wire countertop brochure holder collection ships fully assembled with solid welds. We think you will be surprised at the quality — while being blown away by their low prices!
What types of metal tabletop literature organizers do we have to offer?
The single-pocket wire countertop brochure holder is designed to store standard 4x9 pamphlets. Featuring graceful lines, these models are good choices for offering takeout menus, hotel floor maps, or any other company or service provider's brochure.
We also offer the same single-pocket capabilities but in multi-pocket configurations. Tiered models accommodate up to four slots while the tabletop spinner features 16. That's a lot of pamphlets displayed inside a very small footprint!
Countertop racks with wide, open rows round out the collection. These literature holders can showcase much more than a standard tri-fold. As our customers have stated (for example, check out the reviews for this product), it's the "fold-flat" feature that elevates the convenience. We've had small press publishers, artists, and booksellers tell us they use these stands for displaying their wares at signings, fairs, and conventions. The collapsible legs make packing and transporting a cinch. There is also a thin sign slot located on the front of each rack to personalize as you wish. These folding metal displays are some of our best-selling products!
You can search online for a better deal (Amazon, anyone?), but you won't find the level of quality at these published prices. If you are a small business owner, getting good value for your money is very important. You won't be disappointed with these wireframe holders. Like what you see but want even more storage volume? Floor standing wire racks offer double the capacity (and then some). Stock newspapers, periodicals, and more all within a small footprint!