Economy Wood Podiums - Affordable Lecterns with Attractive Finishes
---
Economy Podiums with Wood Finish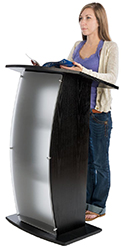 Need speaking furniture that represents your business, church, or school? Economy wood podiums are excellent for creating a professional presentation at a lower cost. Instead of purchasing a hardwood stand made of the most expensive materials, why not get something that looks just as good at a fraction of the price? Economy wood podiums are made using laminates and veneers to replicate that great looking appearance. These lecterns are also made to match the durability of their authentic counterparts. Our wide selection of economy wood podiums includes a variety of finishes and designs to meet any presentation needs.
What types of lecterns do we offer?
Professional economy wood podiums aim to create the best looking presentation possible. These lecterns feature ornate constructions and designs that give your company or brand a respectable image. Choose a pulpit with a decorative acrylic panel or a beautiful curving fabrication to enhance your company's appeal.
Host stations are simple wood podiums where patrons are first greeted in a restaurant. These stands specialize in storage space and shelving for holding menus and pagers for waiting guests. These can include wheels for easy movement around the venue as well.
Office and school lecterns are great for classrooms and conference rooms. The fixtures have a large reading surface for holding presentation materials like notes and examples. The presentation furniture can also include a keyboard trays and adjustable shelving to hold even more speaking aids.
Our economy podiums look like they're the real thing, but with a much lower price tag. Each pulpit completes the illusion with a veneer or laminate fabrication, but what does this mean? These are often confused because they often look similar.
Veneer refers to a thin layer of hardwood, typically measuring less than an eighth of an inch. Underneath is a less expensive material like particle board. Veneer can be sanded, painted, and stained — but only to a point. Too much pressure might damage the thin layer. Economy podiums with veneer will have less noticeable seams for a better looking appearance.
Laminate is a special coating that's often made of plastic. This is cheaper and more durable than a veneer, but usually doesn't look as authentic. Laminate is easy to clean and it can even be painted after removing the glossy finish and priming. It's also more durable than veneer and even hardwood in many cases. Melamine is an example of a laminated material used in many of these speaking stands.
These speaking stands are all offered with quick shipping and wholesale pricing. All of the products on Display2go.com come with the same benefit to supply businesses quickly and with affordable prices. Browse our expansive catalog today!