Exhibition Display Boards - Portable 4-Panel Stands
---
Display Boards for School Exhibits and Professional Events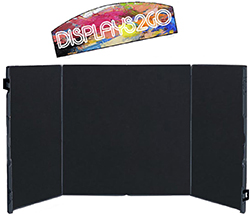 Are you looking for a way to stand out at your next science fair or educational presentation? These exhibition display boards are ideal for large booth-style events for vendors and students alike. Our folding panels provide ample space to feature your promotional information and graphics. Exhibition display boards are often used in university meetings, conference rooms, and trade shows to pitch new ideas or share reports and project theses. Use these visual presentation aids at college job fairs to give candidates the full picture of your business. We offer tabletop exhibition display boards in several different styles, all with multiple panels and a portable design. Many options even include a convenient carrying case for ease of transport between events or lectures.
What types of presentation panels do we offer?
Exhibition display boards with a "briefcase" design are single-sided. No carrying case is required as they fold up into a hardcover case with a handle. Double-sided presentation panels are great for presenting to multiple guest at once. These units come with a carry bag for easy transportation.
Many folding display boards also feature attachable lights for more eye-catching exhibits. These stands can be used anywhere regardless of overhead lighting and will still look great even in a dimly lit conference room. This bright halogen illumination is excellent for drawing attention to your booth.
Some tabletop exhibit display boards come with a removable header for prominently featuring your company's logo. On some models, we offer full-color printing to represent your brand with vivid, digital imprint graphics. This extension also fits into the folding case for maximum portability.
Businesses often use these display boards to showcase images of their facilities while offering informative literature for interested attendees to take home. Each unit is highly portable and is made for easy one-person setup. Remove them from the included carrying bag, unfold each panel, rotate the sides inward slightly for stability, and the unit is ready for use. Exhibit stands with lighting also have a painless assembly process. Attach an adjustable light to each of the side panels and run the power cord through the backside of the unit. The heads on these portable halogen lights swivel to allow users to direct the illumination to the desired area of the presentation system.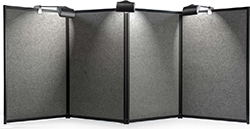 These showcase systems are great for a wide variety of applications. Conference organizers can use this presentation board at the meeting room's entrance to announce the itinerary for the day. Another use for this tabletop board is a replacement for a custom printed banner at a trade expo. This system is excellent for changing out graphics and other attachments with simple hook and loop strips. Tabletop presentation boards are exceptionally versatile and can be tailored for use at any type of conference, corporate function or event. Displays2go.com offers quick shipping and wholesale pricing on bulk orders. Order online today!