Retail Display Fixtures - Countertop and Floor Standing Merchandising
---
---
Display Cases - Retail Showcases
---
Apparel Fixtures
---
Point-of-Purchase Merchandising
---
Retail Signage & Messaging
---
Popular Retail Collections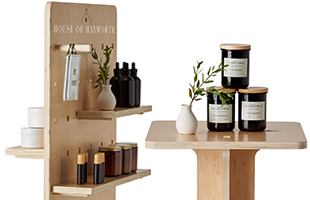 Dandelion - Sustainable Displays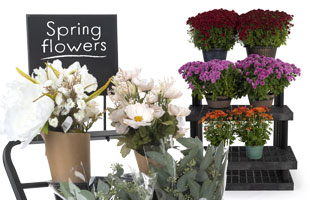 Garden Central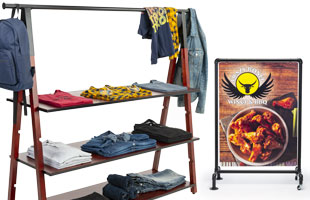 Industrial Rustic
---
Retail Store Fixtures & Displays - Marketing and Merchandising Furniture and Accessories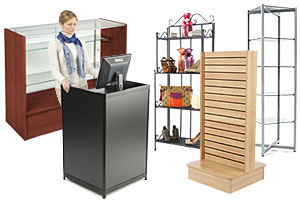 Is your commercial business making the most of its sales space? Retail store fixtures, such as racks, stands, and shelving directly impact profit and efficiency for retailers and service businesses alike. If you or your business needs store shelving, clothing racks, jewelry displays, or checkout counters, we have a wide variety of store fixtures and point-of-sale displays to choose from. It's important to choose the right balance for your location in order to maximize product exposure by positioning related items for up-selling and cross-sells. Well placed retail display fixtures, such as furniture, freestanding shelving and checkout counters, are key to determining customer traffic flow. Even back room storage has the potential to help improve the bottom line by controlling inventory, reducing out-of-stock time, and speeding up replenishment.
We offer retail display fixtures for sale at wholesale prices, ranging from visual merchandising accessories and sign holders to clothing racks, register stands and cash wraps, and other commercial sales furniture. Small details such as product placement on shelves and racks, impact in-store sales in a definitive, measurable manner for retailers and service businesses alike. Our commercial-quality store fixtures are offered in a range of styles accommodating a full range of merchandise, from basic cash wraps and point-of-sale glass display cases to specialty merchandisers for sunglasses, clothing, and impulse items. Even the largest department stores understand that every square foot of space has the potential for increasing revenue and the right store supplies are essential. Let Displays2go's 40-plus years of industry experience and our huge selection of shelving, racks, and sign holders help you make the most of your sales space!
What are the most effective merchandising supplies for businesses?
Store Fixtures & Shelves — point of sale furniture, shelving systems and slatwall, gridwall, & pegboard units
Merchandise Displays — free standing, countertop & wall-mounted stands, racks, risers, bins, and accessories
Print and Digital Signage — sidewalk signs, video screen advertising, window frames, flags, poster holders, pricing & labeling signage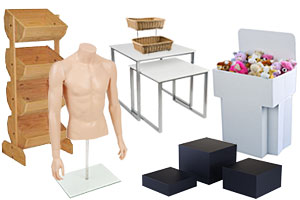 The Importance of Displaying Merchandise
A merchandise display is the placement of products in a retail location. This highlights important products' most valuable features, whether it be jewelry, apparel, accessories, custom goods, and other merchandise. To effectively display merchandise, you should consider visual and physical accessibility to the products (depending on what it is you sell). Display cases, clothing racks, and digital signage are all examples of merchandise displays that you can use to showcase products and promotions to your cus. Choose a display that fits your store's look and feel, and matches your retail aesthetic. Glass displays and cases will appeal towards more visual shoppers while tabletop displays and pedestals can give customers a chance to interact with your merchandise. Slatwalls, gridwalls, and other modular displays allow you to adjust your merchandise accordingly to explore and optimize your customers' shopping experience.
Business owners, managers, and staff all know that the most important space in any commercial environment is the sales floor. With today's changing technology, almost any location – such as outdoor lots, event booths, front desks, service counters, restaurant lobbies, and store end-caps – can bring in revenue from customer transactions. However, even with the most up-to-the minute digital accessories, it's difficult to make or close deals without an actual point of sale. And it's even harder if customers can't locate or interact with merchandise. Increase sales and customer interaction by choosing the right checkout counters and point of sale for your retail location. A clearly identifiable cash wrap or checkout counter could be the difference between the closing of a sale. With a variety of tabletop point-of-sale displays to choose from as well, you can customize your checkout counter to encourage last minute sales and provide networking opportunities.
What are the most effective choices for featuring merchandise in-store and at pop-up locations?
Retail fixtures like checkout counters and register stands guide store traffic flow from entrance to exit. Cash wraps provide space for staff to supplies and accessories, as well as offering customers a secure location for payments.
Glass counter display cases are the perfect complement to register stands as they combine product merchandising and transaction space. These point of purchase showcases are available as single units and as part of larger modular configurations. Shop owners and department managers can create clear customer pathways and custom layouts simply by changing furniture arrangements as needed.
Store shelving retail fixtures give customers easy access to merchandise. Gondolas, racks, and shelf configurations not only determine traffic flow but also need to accommodate most, if not all of the merchandise mix. Systems such as gridwall, slatwall, and pegboard are available, all with a variety of accessories to feature almost any type of packaging.
Display tables create internal window dressing spaces in shop environments. Smaller than cash wrap showcases, these movable stands for merchandise create an ideal focal point to attract customer attention to new, seasonal, or high ticket items.
Many product lines require specialty merchandising furniture. Clothing racks, portable sales kiosks, rustic display fixtures, and eyeglass racks are some of the many styles available that help make items easily accessible to customers.
Counter merchandisers such as spinners, risers, easels, and bulk bins are easily matched to product sizes as well as store décor. We offer cheap blister pack hooks, affordable cardboard countertop racks, and lockable jewelry showcases for generating interest.
Commercial signage fixtures are key for indoor, outdoor, and special event promotions and advertising. Signs can have a significant impact on both traffic flow and sales. Attention-grabbing banners and flags help attract potential buyers, while wayfinding signage, advertising posters, and branded graphics direct and target customer traffic. Even the cheapest pricing labels can directly impact whether or not the customer journey ends with a sale.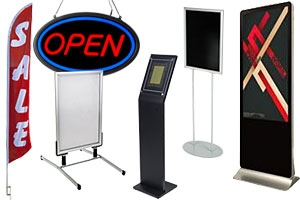 Store and department managers, owner/operators and executives alike understand that the faster products sell, the better the return on equity or assets. This is true for any retail environment, from brick-and-mortar establishments to trade show booths to promotional event kiosks. The easier it is for customers to locate and interact with merchandise, the more likely they are to purchase. Our commercial grade merchandising displays are designed to provide stability, visibility, accessibility, and security in retail and business environments. This not only helps increase profitability, but also improves the customer experience.