Wall Mount Brochure & Magazine Holders | Single-Pocket Leaflet Displays
---
Wall Mounted Magazine & Brochure Holders - Single Pockets for Displaying Literature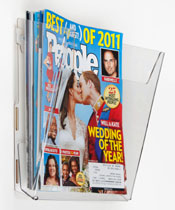 Wall mount brochure holders provide a great way to keep tri-fold publications neatly organized. The hanging racks are perfect for cleaning up messy piles of leaflets typically found on office tabletops and retail counters. What makes these metal and acrylic wall mount brochure holders different from other leaflet displays? These pockets feature a clear plastic assembly that does not conceal the literature contained inside. This way, interested onlookers can easily read and understand the various printed material selections. Wall mount brochure holders, or hanging leaflet displays, are an essential purchase for any business looking to get the word out. Tri-fold pamphlets are relatively cheap to print, so many companies are able to increase exposure to their brands without paying too much. Now, combine the low cost of printing with the exceptional affordability of our wall leaflet displays and you've got yourself an inexpensive and effective marketing campaign.
Are the hanging leaflet displays easy to mount?
These wall mount brochure holders come pre-drilled with holes along the backside that make attaching them much easier. Because the holes are pre-fabricated, the user does not have to worry about purchasing a drill or additional tools.
The installation process is simplified even further because users are able to mark the wall with a pencil using the holes as a guide. That way when it comes time to drill the wall, the holes will line up perfectly.
Some people even use a small bubble level while marking the holes so that the magazine pocket is square with the floor and other fixtures once mounted.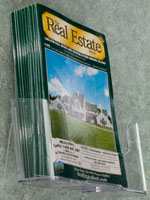 The unobstructive look of clear acrylic is ideal for companies looking to the get the most out of their advertising literature, which is why these transparent pockets for brochures are so popular. Each magazine holder provides interested readers with the best view of the contents, so they are more likely to browse the information. Why not give every prospect additional literature about your products, services, and projects? Take-home printed materials have been proven to increase the likelihood of repeat clients and customer acquisition. Help your current and future clients remember your brand, so they come back often. Supplement products and services with the right reading materials, so your clientele continues to grow.
Are any of the hanging pamphlet pockets equipped for placement on counters?
Yes, several of the plastic literature boxes are designed in a way that allows for wall mounting or tabletop use. The counter stands typically have a support that keeps them upright, which is very helpful for high traffic areas such as sales counters and help desks.
Many clients purchase these dual-purpose designs, so they have the option. While in some cases a hanging pocket might be the better choice, other times a countertop assembly is just right. Consider the needs of your business before making a final selection.

These single magazine pocket products can be mounted just about anywhere that is convenient for you. They come is various sizes and the clear plastic or acrylic allows your entire brochure face to be visible. Businesses spend outrageous amounts of money on marketing materials and literature to promote their brands. Order our wall hanging magazine holders to ensure that printed information is easily seen by everyone that passes through your retail establishment or office. With a literature rack holder you can make all your materials accessible to clients and start improving business today! As a manufacturer, our acrylic wall mount brochure boxes and hanging literature displays are always stocked for fast shipment.