Metal Slide in Poster Frames Ready-Made Quick Change Wall Sign Holders
---
Metal Slide in Poster Frames — Ready Made Framing Displays with Black or Silver Finish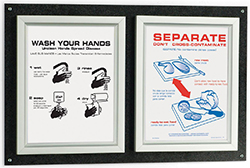 Do you frequently update promotional or organizational information in your store or business? Our metal slide-in poster frames offer quick-loading framing solutions for busy marketers and business people. Whether you're displaying advertising signs or artwork, updates will be a breeze with these wall graphics holders.
These enclosures have an acrylic lens cover to protect enclosed prints from fingerprints and dust. Each of these framing solutions is designed with simplicity and ease in mind. Installation requires only basic hardware. Once the display is mounted, the contents are updated without removing the enclosure.
Our metal slide-in poster frames, also known as easy-insert wall advertising displays, feature a quick-loading design. Need to update information weekly - even daily? Each of these print holders are popular with customers because updates can take place without taking framing off the wall. These metal slide-in poster frames look as good as their glass counterparts and they are easier to install.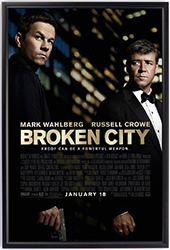 These easy-insert wall advertising displays are ideal for promotional signage that is always changing. Each of these metal slide-in poster frames has a continuous border design that looks modern in any setting. These aluminum wall print framing is an affordable way to dress up the decor and advertise at the same time.
What are the key features of these easy-insert wall advertising displays?
Attributes: Metal slide-in poster frames are simple yet effective ways to showcase advertising prints, photos and artwork. There are a variety of details to think about before you make your purchase.
Sizes: Our smallest sign is 8.5" x 11" for letter-sized prints that can be run off your home or office computer. Other sizes offered include 10" x 12.25"; 11" x 17"; 18" x 24"; 22" x 28"; 24" x 36", and 27" x 40" for advertising new movie features.
Style: Our slide-in poster frames come in plain and beveled styles that are conducive to modern or traditional settings. Choose a flat extrusion for an understated look that emphasizes displayed graphics. A beveled molding style on the other hand has a more dramatic profile and commands attention in high-end boutiques and showrooms.
Colors: Slide-in poster frames come in monochromatic colors such as classic black and silver in satin, polished, and matte finishes that blend with any décor no matter what the color scheme.
Orientation: Most of these aluminum advertising displays can be hung in portrait or landscape orientation. Some of the larger frames have hardware for displays in vertical orientation only. Most of this framing is designed to showcase a single print, but some of the larger units display graphics on two sides. These models can be mounted from the ceiling in places like malls and sports arenas.
These wall sign holders are a marketing staple at travel and real estate agencies as well as auto dealerships. These businesses use large-scale advertising to sell trips, cars, and homes. These enclosures provide wayfinding and procedural information in malls, hotels and corporate offices. Our frames highlight new menu items in restaurant chains. They are great for framing up decorative artwork to enhance the decor in just about any setting.
Most of our wall-hanging aluminum sign holders are mounted with two simple screws and two anchors. Shop Displays2go for frames that enable fast updates of promotional prints. Our promotional displays can be purchased in bulk at a deep discount, which is great for people who have numerous showrooms.