Adjustable Height Podiums - Pneumatic and Manually Adjusted Speaking Stands
---
Podiums with Alterable Height Designs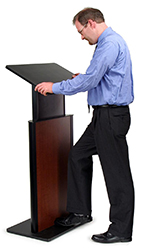 Need to accommodate presenters at your venue? Our adjustable height podiums can change in size to fit any speaker. Not everyone has the same stature, so it's important to have a speaking stand to fit anyone's needs. Each of the adjustable height podiums has a writing surface that raises and lowers to the user's comfort. These lecterns are excellent for places that host different speakers, like school auditoriums, convention halls, and office conference rooms. Shop our various adjustable height podiums for the right model for your needs.
What features are available with these size changing lecterns?
Adjustable height podiums are great at accommodating speakers with different statures, but how do they do it? Some models feature a pneumatic assist that makes it easy to raise or lower the reading surface. Whether it's a step pedal or a control dial, these lecterns will quickly adjust to the user's specifications.
Need to amplify presenters as well? Browse our adjustable podiums with sound systems to raise the volume, not just the reading surface! Our line of amplified lecterns come with a microphone and 50W speakers so that everyone in the room will be able to hear. These loudspeakers are strong enough to address crowds of 1,000 people or a 10,000 square foot area. Choose from models with different mic options: wired, wireless handheld, and wireless lapel. Shop our portable sound systems for more audio equipment.
Our adjustable podiums all feature high quality wood finishes to complete the presentation. Browse our wide selection of different shades from light oak to walnut. Imagine the difference between making a presentation with a rich mahogany speaking stand and a cheap looking plastic pulpit. Most of these models are made with real wood, but we also offer more affordable veneered units that are constructed with MDF.
Our podiums are excellent for accommodating guests as short as 5'0" and as tall as 6'6". Speaking stands like these excel in public areas where there's a variety of presenters. Easily change the stands' stature in seconds with their assist mechanisms. Each pulpit is offered with fast shipping and wholesale pricing on Displays2go.com. Don't hesitate to order if you're in a rush or need a large quantity of lecterns!