Banner Accessories Including Cases and Lights
---
Tradeshow Banner Accessories - Lights, Cases, & Replacement Graphics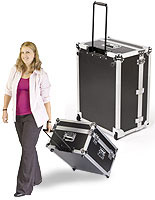 Where are these banner accessories typically used? Most of the custom vinyl signs and other displays sold here are seen at trade shows and in retail store locations. We sell a variety of banners accessories, including spotlights, carrying cases, and replacement graphics. The majority of the merchandise sold here are offered at low prices. These banners accessories allow users to update existing displays or improve upon their performance. Spotlights focus more attention on a custom vinyl sign by highlighting the graphics, while carrying cases increase portability and protect. Other banners accessories include replacement cassettes and graphics so that customers can update existing custom sign displays without buying new units. Shoppers can buy various different vinyl signs for your stands and change them as often as needed. With these banners accessories, custom displays will always be current and never out-of-date. These sign supplies work with a variety of the displays sold here, however be sure to check that your new accessory will accommodate your stand before ordering. Some of the most vital banners accessories are carrying cases. These crates and graphics tubes not only make transporting valuable custom printed signs much easier, they also protect the custom signs from the elements and other factors that could lead to damage. Many of these banners accessories, carry cases feature wheels or shoulder straps for comfort and increased portability. A select few of the crates and larger cases shown here are also rated for freight shipping. These banner accessories add value to an existing tradeshow display as well as protect valuable custom pieces from getting damaged during transport.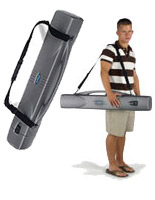 If you are looking for complete units and not just banner accessories, visit the main category page. There, you will find a wide variety of custom sign displays including retractable stands, hanging vinyl graphics, outdoor flags and more. In addition to banner accessories, there is an equally impressive selection of tradeshow booths, backdrops, portable flooring and all of the additional fixtures needed to design an enticing and successful event display! There is also a wide range of outdoor rated merchandise such as advertising and message flags, giant sign frames as well as street pole banners. Choose Displays2go for all of your banner accessories and custom vinyl signs! Buy today – ships today; some restrictions may apply see product pages for details.
Are these accessories such as custom vinyl graphics offered at discount prices?
All of these flag, sign and graphics displays are sold at some of the lowest prices offered everywhere online.
Most of these banner accessories are offered with discount pricing when purchased in bulk quantities.
For more information regarding further discounts beyond the quantity pricing shown online, please contact a member of our consumer service team at 1-800-572-2194.
Do cases and lights shown here qualify for same day shipping?
Some of the tradeshow lights and carrying cases are offered with same day shipping options.
Accessories such as custom vinyl flags, and other banner hanging signs are printed to order, and typically take a few business days to complete.
Many of these sign displays are able to ship over night for those working with a deadline.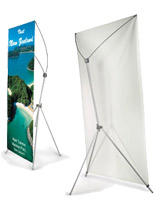 Along with these sign hanging options and other trade show supplies there are many other product lines offered here! Additionally, there is a large assortment of other custom printed displays including; retractable stands, human billboards, message flags and much more. Displays2go has been producing and selling custom vinyl signs since 1974. This business started out as a one-man company, making custom acrylic fixtures and then selling them to local banks and other financial establishments around the state. Typically in stock requests processed prior to 3PM ship the same day. Orders received after the cutoff time ship the following business day. Some restrictions may apply with custom or vinyl graphics related merchandise. With more than 7,000 POP displays available, this online catalog is able to satisfy a large variety of consumer needs from many different product lines. This selection of merchandise is continuously growing to include new and innovative displays. Come back frequently to take advantage of all of the newest offers. It's clear to see why this website is the nation's #1 choice for all display products! Thanks for shopping here!