Floor Poster Stands with Magnetic Frames - Flip-Open Holders for Menus and Advertisements
---
Magnetic Cover Display Frames Hold 8.5" x 11" or 11" x 17" Posters and Menus
Are you looking for a sign holder that lets you change out graphics quickly? These floor poster stands with magnetic frames make it easy to freshen up advertisements thanks to their flexible covers and standard-sized display areas. Changing out signage doesn't have to be complicated or fussy. If your restaurant menu is updated weekly, you're probably familiar with the frustration of taking a standard sign holder apart or trying to fish old prints out of a loading slot. These flip-open floor poster stands with magnetic frames feature a flexible cover that effortlessly lifts off and falls right back into place after you've swapped out your signage — no hardware or tools required. This durable, non-glare lens protects printed materials from the elements while still allowing guests to view them without issue. Refreshing your advertisements is as easy as lifting the cover, removing the old sign, and laying the new one in. These standard print-sized floor poster stands with magnetic frames reach just around eye-level height, making them perfect for attracting passersby.
Where are these standing sign holders typically used?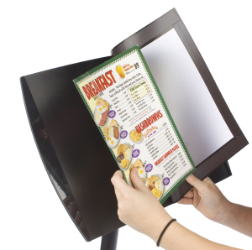 Restaurants & Cafes — Freestanding menu holders allow guests to preview your offerings while they pass by or wait for a table. Giving passersby an idea of some of the delicious dishes that await them is a great way to get more diners to stop in and give your establishment a try. Floor poster stands with magnetic frames positioned alongside a line at your service counter can also help queues move quicker, as patrons will have already had a chance to decide what to order before their turn arrives.
Retail — Whether it's hype for new products, limited-time sales, or promotional events, the advertising needs of stores are always changing. Using standard sizes like 8.5" x 11" and 11" x 17", shops can easily generate fresh visual marketing to keep shoppers informed. Many of these floor poster stands can be mounted in either landscape or portrait orientation, effectively doubling your design possibilities. And of course, the magnet-lined protective cover makes last-minute swaps stress-free.
Lobbies & Entryways — Wayfinding signage is crucial when creating an efficient flow of foot traffic in your building. When visitors arrive, an eye-level floor poster stand informing and directing them reduces frustration and reduces potential backup. Convention centers can direct event-goers to separate lines for pre-purchase attendees and box office ticket sales. Banks use these fixtures to advertise special interest rates and new account incentives as well as to guide patrons.
If your business' visual advertising budget skews more toward the DIY side of things, consider picking up a poster stand that fits 8.5" x 11" prints. This standard size can be handled by any home printer, allowing you to quickly and easily cook up small runs of promotional materials for sales, events, and more. The eye-catching curved design of these freestanding frames makes a great addition to just about any high-volume indoor environment. And thanks to their relatively small footprint, you won't have to worry about giving up too much precious floor space. Are you looking for low-cost tabletop signage options for your restaurant? Consider buying tent-style and card holder sign stands for menus and drink lists. Take advantage of bulk discounts and top every table with a matching menu display.