Write On Sign Frames in Plastic, Metal and Wood
---
A-Frame and Sidewalk Sign Frames with Write-On Blackboards, Whiteboards and Easels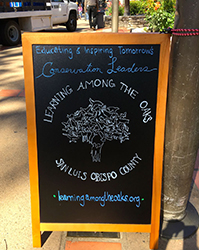 How can write-on sign frames boost your customer base? Our A-frame signage has metal, wood, and plastic construction. Place these writing easels indoors or outdoors when the weather is mild. Affordable chalk boards are the best way to reach your customers with advertisements. Place our blackboards outside cafes and bars to announce bands, new menu items or drink specials. Promote new merchandise or spread the cheer around with a seasonal or inspirational message. Double-sided signs bring in customers from both sides of a sidewalk. Our sandwich boards come with a chalkboard or magnetic whiteboard surface. Buy compatible writing tools like stick or liquid chalk, wet- and dry-erase markers elsewhere on this website. Many of our write-on sign frames have wheels that glide across restaurant floors. Our sandwich boards are easy to fold, transport and store. These markerboards are great for schools and daycare centers, gyms, and community centers — any place where the word needs to get spread!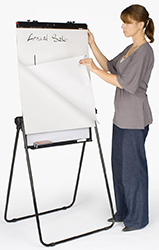 What styles of sandwich boards are available?
Our write-on sign frames are designed for use with wet-erase markers or stick chalk. The A-frame design makes them portable. Many of these can be viewed on both sides. Whether hard wood or aluminum, these fixtures all fold for storage. This blackboard combines technology with the old world charm of traditional blackboards. Need a new message? That's easy - just wipe off the old one with a magic eraser!
These pavement stands have an open-faced polyethylene frame. Designed for use with dry erase markers, these sign frames are great for outdoor concerts and festivals. Parking lot full? It's easy to update messages on these sign boards. These plastic frames are constructed of heavy duty plastic that won't rust, splinter, peel or crack.
Sidewalk stands in metal have wheels and a tilt and roll base. Our dry-erase markerboards have a magnetic surface and lens cover. They hold two posters on each side. These A-frames have a powder coated finish for durability, though they should not be used in the rain or snow.
Aluminum A-frame signs with snap-open sides are double-sided. Wet erase white boards have a no-glare lens so graphics are viewable day or night. The snap-open technology is easy to use, and great for busy retailers who update their messages frequently.
Whiteboard frames with spring-loaded clamps display flip charts for office presentations. Easel hinges rotate to adjusting the stand for floor and counter mount using knobs on each side. This stand for dry-erase markers features a spring-loaded paper clamp and a pen tray. Rubber feet keep the unit from sliding and protect floors from scratches. The magnetic surface is compatible with dry erase pens. Meeting over? Fold the frame and go.
Our double-sided swinger-style blackboards come with a self-storing EZ lift handle. The technopolymer construction minimizes dents and resists water. The swing style is flexible, so it's great for use out of doors when a little wind comes. These stands work best with wet erase neon markers. Wheels help this unit move from sidewalk to store in a snap: grip, tip, and roll!
Easel and a-frame sign boards are collapsible and easy to transport indoors once the day is over. Our blackboard-style wet-erase stands in corrugated plastic blend old fashioned style with modern technology. Dry-erase markers markers have special drying ink that won't wash off in the rain when you place stands outside. These message boards are safe in rain and winds up to 20 mph. They won't even smudge! These blackboards in corrugated plastic won't splinter or rust in the rain.
All of our chalkboard signs drive your branded messages forward. Sign frames work with stick chalk, dry-erase, and wet-erase markers and they are easy to update, move, and store. When time is of the essence, these A-frames are the answer! Look for sign header and brochure attachments for dispensing "take home" literature to go with your double sided sandwich frames. Shop Displays2go for pavement signs and enjoy prompt delivery and timely shipping on most in stock frames. Bring more foot traffic into your establishment with the right marketing tools. Don't forget to stock up on liquid wet- and dry-erase markers conventional chalk sticks -- available at this website!