Sign Hanging Kits For Ceiling Mounted Promotional Posters
---
---
---
---
---
---
---
Poster Hanging Sign Kits with Monofilament Nylon Lines
Are you looking for a way to suspend promotional signage without the use of unsightly wires or rope? Choose our nylon sign hanging kits with near-invisible strings to place the focus where it belongs - on your advertisement. Each clear monofilament suspension set contains 2 lengths of heavy duty line, 4 "S" hooks, 2 barnacle clips for drop ceilings and 2 toggle bolts for plaster or sheetrock. These versatile nylon sign hanging kits allow you to install posters or banners in just about any type of ceiling. The rugged line holds a considerable amount of weight, yet maintains a minimalist look which makes your graphics appear as if they are floating. Nylon sign hanging kits include all of the hardware needed for suspending heavier acrylic graphic panels from the ceiling. Each signage system features a modern design that maintains a professional appearance in a variety of environments including restaurants, retail shopping centers, movie theaters, and convention centers.
What makes these suspended signage hardware bundles the go-to fixture for our customers?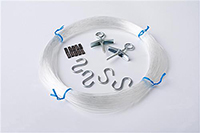 Our nylon sign hanging kits feature a streamlined design built with the industries they serve in mind. Thin, lightweight, and near-invisible monofilament lines make graphics appear as if they are levitating. Minimalist construction places the attention on the advertisement itself, and away from the hardware that supports it.
Sign hanging kits for ceiling mounted banners are affordably priced well below our competitors. The low cost gives businesses the freedom to use more of their budget on quality custom printed posters that are sure to increase sales.
Personalized acrylic signage, printed posters, and promotional banner sign hanging kits are our specialty. We offer an extensive line of products to help you grow from a start-up business to an international enterprise and every stage in between. Our customers value us as a one-stop-shop for all of their advertisement needs while taking advantage of our graphic design team dedicated to your success.
Use a poster hanging kit to capture the attention of customers in high-traffic areas or venues where wall space is limited. Much like how floor decals catch the eye of those who walk over them, suspended advertisements draw the focus of your guests by taking advantage of overhead space that is often left empty. We carry a plethora of poster holders for the wall and floor as well. Displays2go works with you every step of the way, whether your business is designing its first printed promotional banner and looking for the perfect frame to support it, or are seasoned experts coming back for another successful campaign.