Portable Sign Stands with Rotating, Tilting and Telescoping Capabilities
---
Restaurant Height Adjustable Menu Stands w/ Tilting & Telescoping Features
Are you shopping for portable sign stands that are exceptionally versatile? These adjustable signage holders are the solution! These portable sign stands, graphic holders are available in a variety of styles, sizes and materials, therefore allowing shoppers many options. These signage displays are floor-standing graphic holders, ideal for posting sales promotions, menus or even a directory to welcome customers. These portable sign stands are offered in the most popular sizes; 8-1/2" x 11", 11"x17" and 18"x24". There is even an 11" x 17" frame pedestal with a divider, making the display capable of holding (2) 8-1/2" x 11" images, side-by-side. There are portable sign stands offered in both black and silver, two colors that easily blend-in with any type of existing décor. Among these adjustable signage holders are units with frames for portrait or landscape graphics, as well as fixtures that can rotate to accommodate both orientations. All of these portable sign stands have one common feature, and that is the telescoping poles. Each unit includes an adjustable pole that attaches to a weighted base. The height adjustment on these portable sign stands allows users to position their signage at the desired viewing angle. These floor standing banner holders are a bargain!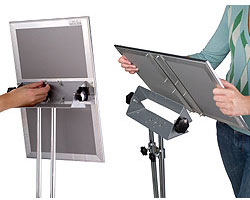 These portable sign stands can be raised or lowered by simply loosening the knobs along the pedestals. Securely tighten the handles once the desired height is reached. Some of these portable sign stands, graphic holders also feature tilting frames. Users can rotate these banner displays a full 180 degrees! Floor poster frames, such as these portable sign stands, can even be positioned both horizontally and vertically. With these aluminum graphic frames, the display options are endless! Some of these portable sign stands feature a frame in a fixed position; either portrait or landscape. These frames feature a slide-in design that allows for quick signage changes. Given the somewhat limited signage options, these portable sign stands are priced markedly cheaper than the other adjustable units within this category. Each of these holders is offered in various sizes and the standard black or silver finish. The viewing angle on these portable sign stands is not adjustable and remains perpendicular to the floor. Use these adjustable pole and base displays to post safety signage or other informative messages in a business lobby or office building.
This portable sign stand collection features frames in (4) different materials: acrylic with magnets, acrylic with metal knobs, top loading and snap-open frames. Acrylic poster displays with magnets securely sandwich graphics in-between an acrylic panel and a non-glare plastic lens. The acrylic portable sign stand with metal connectors secures images in-between two panels of acrylic. Snap frame units are also effective alternatives for holding signage. To use snap-open frames, simply flip open the edging, add your graphics and then flip them shut. We even provide these snap-open graphic holders with clear lenses to protect the sign within.
Do the portable sign stand displays sold here require assembly?
Most of the holders seen here require some level of minor assembly.
Each sign stand does include a set of detailed instructions and in some cases, the necessary tools as well.
Typically the assembly process involves attaching the pole to the base, and then the signage holder to the pole.
Is there a portable sign stand for sale here that can be used outside?
The floor standing signage shown here is intended for indoor use, as there is nothing to protect the graphics from moisture.
Users could place this portable sign stand under a covered entryway in fair weather conditions for short periods of time.
For the complete selection of floor standing signage holders, including exterior rated units, click through the restaurant supplies section.
In addition to these adjustable graphic pedestals, there is also a wide range of other poster stands and signage holders offered here. Browse through this extensive inventory of tabletop and floor-standing units. Here at Displays2go, there are recently more than 7,000 different POP products from which to choose. Over 90% of those fixtures are designed right here in the United States. Our three warehouses are recently filled with more than two million units, in stock and ready for same day shipping! Doing business since 1974, this company has built a solid foundation built on the strong belief that customer service is the number one priority. There are agents available five days a week to answer product questions, process order requests, check on the status of an existing order, and much more. Our call center experts attend weekly training in an effort to familiarize themselves with the new products being offered here. The specialists are also exceptionally familiar with the shipping policies and procedures available. Typically, orders placed before 3PM EST ship the same day. There are a few exceptions, especially with custom printed graphics. All other requests ship the next business day. Feel free to call us at 1-800-572-2194 to find out more about the incredible deals recently available!