Retail Dump Bins Organize Merchandise in Grocery Stores and Retail Shops
---
Retail Bulk Display Baskets and Bins Organize Clearance Inventory at the End of Store Aisles
Are you looking for the ideal fixture to organize and store bulk storage of inventory in your department or clothing store? Retail dump bins are simple yet powerful merchandising tools for any business. Display fixtures such as baskets, boxes, and racks are ideal for presenting large quantities of clearance items in a space saving way. We offer a large selection of retail dump bins, including traditional "basket style" units, tiered displays, and even stanchion bowls. Some wire frame models include wheels, with locking casters, for added mobility. Retail dump bins make it easy for department store customers to shop and browse sale or bulk items at a glance.
Whether you are offering DVDs, candy, stuffed animals, accessories, or any other merchandise, it is important to create a seamless shopping experience. A Retail dump bin is an inexpensive way to store large quantities of goods in one space-saving fixture. Increase sales on toys, sporting goods, clothing, multimedia and almost any other type of stock. Giving customers quick-access to overstock or on-sale items with dump bins is a great way to prompt impulse sales. Place high inventory, low cost items right near the cash register to improve the chances you get a sale.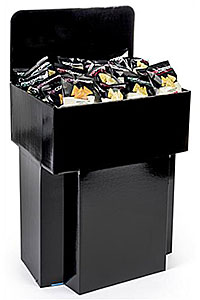 What different styles do we carry?
A cost effective option, cardboard dump bins break-down and are built in seconds. These lightweight options are easily transferred between departments and events. Some cardboard units feature custom printing to increase brand awareness or send a targeted message.
Wooden bins offer long-term durability and a lasting life in high-traffic environments. Many of these units include a multi-tiered display, perfect for diversifying merchandise options. Items in this category include wicker baskets and nesting crates ideal for bakeries, specialty shops, and art stores.
Wire bins are easily built and match existing fixtures in any retail store. Some models include wheels for a highly-mobile display. Others are multi-tiered and allow merchandisers to display many different items.
Notable models include hard plastic countertop cases ideal for last minute purchases. Stanchion bowls are another great way to tempt customers with small-ticket items such as candy or accessories in line. We also offer deep top folding tables with 2-inch walls, perfect for mobile or pop-up businesses.
Boost sales and reduce overstock with high-quantity low-cost items. Each affordable display fixture available in this category provides an incredibly high return on investment. Utilize these and other point of sale retail displays to boost sales in your store! Create stunning, highly effective retail displays with any of the fixtures available here, or browse Displays2go extensive catalog to boost your business ahead of the competition.