Table Top Trade Show Displays with Custom Graphics
---
Portable Exhibit Booths w/ Custom Graphics - Single & Multi-Paneled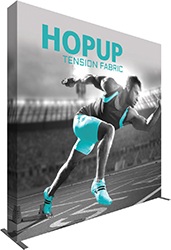 Are you shopping for tabletop trade show displays to enhance or upgrade a simple booth? Several different styles are available including pop up frames with stretch fabric or fold up panels with custom graphics. These portable popup exhibits will add excitement to any layout. While everyone else has a solid fabric banner or cardboard fixture, your presentation will stand out because of its vivid full color print. These units are also great for a corporate event or business meeting. We have tabletop trade show displays offered in many shapes and sizes. The design of these exhibit booths fit onto a standard eight foot table. Do you need a smaller popup unit that will fit on your six foot table? We also have tabletop trade show displays that are only five feet in width and height. It will sit on a smaller counter with room to spare. These exhibits are often printed on lightweight fabric. This material is easy to work with and maintain. Most of these trade show displays with custom graphics feature a metal frame. The fabric is able to stretch around to form a unique shaped mural-like wall on any tabletop. Custom panel displays that fold up for easy storage and transport are also available. No matter which convention stand accessory you choose, you'll reap the rewards of owning such an exciting and effective fixture.
Does this portable booth exhibit require assembly and can it be shipped to the convention site?
Our tabletop trade show displays require little to no assembly, and no extra tools to set up before use.
Some of these graphics "pop up" and lock into place with little to no effort.
For exact measurements of any folding banner, contact a member of our consumer service team or read the product details page.
Our transportable exhibits and pop up graphics can be sent via air. We ship to any location in the continental United States.
Many of these units are small, and break down into a carry-on bag that can be taken on an airplane.
How does the custom printing work?
These exhibit booth displays are printed with consumer-designed graphics. Customers can upload their artwork to our secure FTP address once a booth is purchased.
Customers are sent an electronic proof of the final artwork prior to the actual print process beginning.
Once approved, the units are then sent for printing.
These fixtures are checked for quality one last time prior to shipping.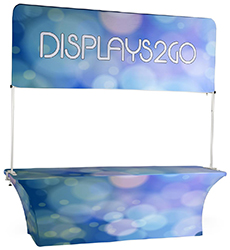 These tabletop presentations allow attendees to spend more time interacting with potential customers and less time putting together big accessories. What sets one exhibitor apart from the crowd at a busy convention is the layout and add-ons of their booth. These lightweight transportable popup exhibits save on the limited floor space at an expo, and add effective graphics to a presentation area. Businesses use smaller popup accessories instead a floor standing units to draw potential clients. These portable units are just one small segment of the huge selection of our exhibition accessories and supplies. We also have a diverse assortment of pull up banners, folding briefcase-style presentation boards, popup back walls with custom graphics, and tabletop drapes. This site has everything an exhibitor needs to build an effective and successful trade show booth for any size venue. We are confident you will find what you're looking for in our large selection of portable exhibit stands from Displays2go!