Black Poster Floor Stands with Stationary Bases or Wheels
---
Floor Standing Display Stands with Brochure Holders for Trade Shows, Building Lobbies, and Stores
Looking for a consistent signage solution? Black poster floor stands boast a commanding presence. These 22" x 28" graphic displays always stand tall and have a bold appearance. Black poster floor stands with brochure holders are useful in a variety of settings including trade shows and expo events, mall ways, lobbies, and storefronts for promotional purposes. These double-sided acrylic displays are an economical and convenient option for anyone looking to expand their advertising arsenal. Plastic poster floor stands help make a statement wherever they're located. Browse through our catalog of freestanding displays to find the one best suited to your needs.
Why should I choose these freestanding acrylic signage displays for my business?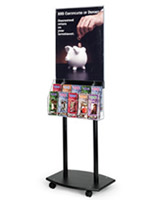 Black poster floor stands come in two different commanding designs — ones with stationary bases or models with roller wheels. Having both fixed and portable options available allows the owner to choose what would be best for the situation at hand. Trade show exhibitors may want a movable display if they find themselves walking around to promote their business, while store owners might want a stationary presentation that showcases current sales or product promotions.
These graphic displays are available with attached literature holders for the option of displaying promotional materials. Choose from ones with five, ten, and even 20 pockets that house either brochure-style flyers or business cards. Each of the brochure holders come with adjustable dividers to accommodate multiple sizes of advertising material. The beauty of adding brochure holders to your display is that you give passersby the ability to take your advertising and promotion efforts home with them, in the hope that they come back and visit your business one day.
The design gives you the flexibility to easily swap out signage as needed. Some businesses require constant information updating, like restaurants or retail stores. Establishments will be able to post upcoming sales or restaurants will be able to swap in and out daily specials to keep passersby up to date.
Each freestanding display stand is double-sided for maximum exposure. In areas where foot traffic tends to move in both directions, deciding where to position an advertisement can be a difficult decision. With signage on either side, your message gets through loud and clear no matter which direction customers come from. Double-sided advertising can expand your visual marketing strategy, as well. Designate one side to greet guests as they enter your building and the other to say "come back soon!" as they leave.
It's essential to make a positive impact while trying to promote your brand. Investing in our acrylic graphic displays is an easy way to make a bold statement. There are tons of options to choose from with a variety of features, so there's no reason why you won't find one to fit the needs of your business. Looking for other freestanding signage? Modern metal poster stands with snap-open designs have attachment options for supplemental promotional material as well. Shop online at Displays2go for quick shipping and low prices!