Portable Event Booth Tent with Counters for Trade Shows and Outdoor Events
---
Portable Event Booth Tent — Knockdown Exhibit Domes and Concessions Booths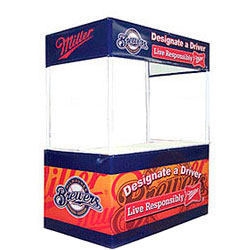 What display fixture will help your staff work remotely at trade shows and festivals? Our portable event booth tents with counters blend a high level of functionality with dramatic visuals that will bring in foot traffic to exhibitions, food concessions, or information kiosks. The marine-grade vinyl canopy and sides keep foul weather at bay while you showcase goods and services to customers, or serve refreshments. This material is UV-resistant so it won't fade, and it's easy to maintain with an oil-resistant shield that resists bacteria and mildew. A simple sponge with mild cleaner will freshen the vinyl, however for a deeper clean, chlorine bleach products combined with water work best. The featured outdoor displays are typically 8' and 10' wide. We sell dome, hexagonal, and rectangular shapes to add interest and draw customers into your refreshment or exhibit space.
Another great feature of our popup trade show gazebos is that it's easy for one or two people to assemble it and break it down. Furniture-grade PVC makes up the "bones" of these portable event booth tents, so the units may be lightweight - but they are sturdy and won't topple over during use. Our outdoor displays have deep built-in counters with plenty of storage underneath. Depending on the size of your unit, they can come with one counter, or up to three depending on the size and layout of your booth. Who knew one display fixture could be so versatile! Our portable event booth tents can double as a concession stand at music festivals and games, or it can become an exhibit space for arts and crafts or merchandise for sale. Each of these popup trade show gazebos makes a great information kiosk at trade shows and large-scale sales gatherings. Bring your "store" or "office" on the road without worry - each of these versatile stands comes with a travel bag (or three, depending on the size of your "road show".
What other features should you consider when shopping for popup trade show gazebos?
Our portable event booth tents are customizable with graphics in 16 stock colors. Choose vibrant hues that can be seen from across a large venue. Add a logo and tagline to reinforce messaging!
Depending on the venue and service you're providing, you'll want to choose a stand that meets your needs. For example, our rectangular concession stand comes equipped with a vinyl skirt and canopy and FDA-approved plastic countertop.
All of these units have several carry cases for each part of the knocked-down kiosk. These outdoors displays offer the user a lot of ways to work and wait on customers yet with an eye on portability.
Do you have different exhibitions to put on throughout the year? We offer replacement graphics with full-color skirt and canopy for your gazebo kiosks -- counter and frame not included.
Working off site can actually be fun if you have the right equipment. No need to get wet trying to do your job at a concert or craft show! Our event booths with promotional graphics go far to boost brand recognition and expand reach with good looking and functional branded exhibit displays. Serving customers off site is easier than ever. Ask our customer care team about quick shipping for all of our quality expo fixtures. Keep in mind that custom graphics may require a longer lead time.