Flat Screen TV Stands - Commercial Mounts & HD Television Brackets

---
Commercial Display Stands for Flat Panel TVs
Looking for a way to advertise digitally for your company, entertain patrons or meet attendees on a flat screen television? Our TV stands are excellent for commercial use, whether they're featuring a dynamic promotional display at a trade show or broadcasting the football game in a bar. Digital signage is everywhere - stores, restaurants, hotels, terminals, event venues - its uses are limitless. TV stands are used to highlight merchandise, feature helpful information, display menus and even tell passersby where to go. We offer hundreds of mounts and accessories to meet the needs of any business. Each commercial TV stand is outfitted with a standard VESA bracket, ensuring compatibility with a wide range of popular HD brands and models. Flat screen holders will promote interaction with customers, persuading them to spend more time in a location and learn more about the merchandise and services being offered. Looking to take advertising a step further? We feature a variety of fixed and portable TV stands with literature pockets, poster frames and shelves to showcase merchandise or distribute marketing material.
What types of digital signage mounts do we offer?
Portable Flat Panel Holders for Events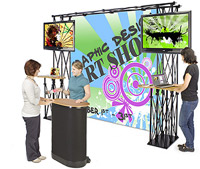 Want to use a commercial television stand at a trade show to promote your brand? We have a large selection of mobile fixtures that can be assembled and broken down with no tools. These feature a strong truss design with self-screwing poles, making installation quick and simple. Our catalog also includes monitor displays measuring over 10' tall for increased visibility in crowded convention centers. Many of our models can hold two HD televisions in either landscape or portrait format. Another great option we offer for exhibitors is the all-in-one trade show display. These complete solutions come with two collapsible truss LCD racks, graphic backdrops and a portable counter!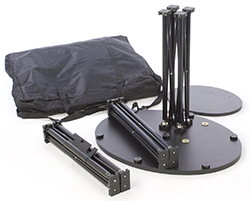 Turn any Flat Screen Television into Digital Signage
Displays2go offers stands and racks for flat panels of any size. All of our fixtures feature VESA brackets that are compatible with every major display manufacturer. Each TV rack product page includes a detailed list of specifications with the appropriate VESA sizes and dimensions to ensure that customers get the right model. Most models come with adjustable brackets for accommodating screens with different dimensions. For more information about these measurements, read our article on VESA sizes. Also be sure to read about tricks, tips & common mistakes for mounting a flat screen TV.