Replacement Graphics For TRWDL3X3 Pop-Up Banner Stands
---
Replacement Graphics for our TRWDL3X3 Series 3-D Pop-Up Displays
Is your TRWDL3X3 series display looking like it needs a pick-me-up? Utilizing replacement graphics are a great way to update worn-out 3-D banner stands. These graphic panels coordinate exclusively with the TRWDL3X3 series of pop-up displays. Replacing old images with newer, more vibrant panes keeps your presentation looking fresh and up-to-date. Instead of ordering a whole new 3-D banner stand with the frame, purchase replacement graphics and save on costs. These squares are even available in the same configurations that you see on any model within the TRWDL3X3 series.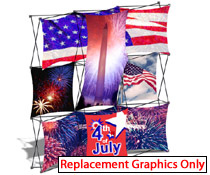 Why invest in spare 3-D pop-up panels?
Replacement graphics are a great solution for any company that has already purchased a TRWDL3X3 series pop-up display from Displays2go. If a company has recently revamped its image, ordering spare panes is a great way to show that enhanced brand mission at trade shows, conventions, and large expo events. Marketing, advertising, and design trends are ever-changing. To stay competitive in the marketplace, you need to be sure your company's advertisements are up-to-date with current times. This is where our spare panel systems come in handy!
3-D pop-up displays are ideal for companies with products in a variety of markets. These corporations tend to attend trade shows for multiple industries. It is a good solution to have panel systems tailored to each specific event.
Forget about stressing out over your display becoming damaged on its way to a trade show or fearing it looks worn from years of use. Investing in spare squares as "back-ups" for the original will save you from these potential headaches!
These replacement graphics have the same great features as the original TRWDL3X3 series banner stand you purchased. They are crafted from a flame-retardant stretch-poly fabric. Our panel systems are imprinted with brilliant, 720dpi printing and feature plastic-reinforced corners to prevent stretching and fraying.
Displays2Go is a leading supplier of spare panes for 3-D pop-up displays. We use high-quality materials to ensure your presentation looks its finest. Shop online to take advantage of quick shipping and low prices!