Replacement Graphics For GEOEC3X3 Pop-Up Banner Stands
---
Custom 3-D Pop-Up Graphic Panels for GEOEC3X3 Series Banner Stands
Have you recently purchased a GEOEC3X3 series pop-up display? Investing in replacement graphics for this 3-D unit is essential to keep your presentation fresh and up-to-date. These spare panels are made solely for models within the GEOEC3X3 series of pop-up banner stands. Why waste money on a whole new display when you can simply invest in replacement graphics to give your presentation the pick-me-up it needs? A great attribute of these spare panes is that they fit on your original frame like a glove. These squares are offered in any design configuration you see within the GEOEC3X3 series of products.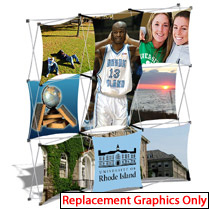 What are some reasons to invest in spare panels for a 3-D pop-up display?
Replacement graphics are often used as a "back-up" for the original panels on a banner stand. If you have a trade show coming up and your display is a main focal point of your presentation, what would you do if the graphic panes on your unit became damaged before the event? Having a spare set of square panels on hand is a great way to ensure your presentation goes as planned.
Since these 3-D presentations are customized specifically with the artwork you provide, it takes a few days for the approval process and printing to take place. Investing in spare squares alleviates this issue if you don't have time to wait.
If you ordered your original GEOEC3X3 banner stand years ago, chances are your company may be looking to update the design. Purchasing a spare panel system is a solution. It's important for corporations to keep up with the current trends in marketing and advertising, and investing in extra graphic panes is a way to do it. With these squares, companies can achieve a fresh, new look without burning a hole in their pocket investing in a brand-new unit.
These replacement graphics have the same features as the original panel system within the Economy GEOEC3X3 Series of pop-up displays. Shop online to take advantage of quick shipping and low prices exclusively from Displays2go!