Metal Poster Rails with Anodized Aluminum Rails & Plastic Inserts
---
Window and Hanging Poster Rails with Durable Metal Design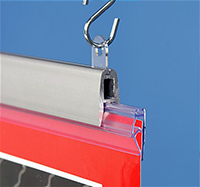 Is your business looking for a high impact hanging or window banner system? Our collection of metal poster rails are an effective signage holder for retail or restaurant environments alike. These satin-anodized aluminum banner hangers are perfect for presenting advertisement graphics in trafficked locations and are sure to capture the attention of passersby. We offer versatile metal poster rails measuring between 24" and 72" wide, however, our patented snap open frame can accommodate banner sizes up to each fixture's maximum width. We supply these banner hangers in 9 different sizes to fulfill any sign-hanging requirements you may have. Standard metal poster rails catch your graphics and slides it into the custom designed aluminum hanger, which finishes off the look.
How will these banner display systems benefit your business?
Metal poster rails are designed with anodized aluminum which maintains an attractive appearance through daily use. Featuring a silver finish, this banner frame does not distract from your promotional graphics. Clear plastic inserts grip your advertisements from the top and bottom of the display.
Aluminum banner hangers feature a snap-open frame which allows users to insert or slide marketing material. This is especially useful for organizations that require weekly changes to their promotional content. Save valuable time and energy by swapping out sales information, restaurant menus, and event news quickly and easily.
Position our poster rails in the window if your storefront to increase foot traffic by capturing the attention of passersby with custom advertisements. Or, hang a banner above a cash register or entryway to inform potential customers of limited time sales, promotions, or menu options. Suspended signage dominates visual real estate in retail stores and restaurants, so why not use that placement to your advantage and generate additional sales?
Displays2Go provides suspension hardware kits for our retail displays, sold separately. These aluminum poster hangers, also known as banner rails, utilize a patented design for changing graphics readily and efficiently. An economic retail display, our suspended signage systems are a re-usable product at a low price. We sell plain poster hanging rails as well as banner rails that include suction cups for those window display applications. Maximize the effectiveness of your advertisements by taking advantage of our custom sign printing services and stand out among the competition. No matter the industry or service you provide, Displays2go has the resources to help you every step of the way from attracting new customers with personalized signage, to merchandising your products, and sharing your brand's message.