Extra Wide Display Cases Offer the Greatest Amount of Real Estate
---
Showcase Trophies or High-End Gifts Inside Wide Commercial Display Cabinets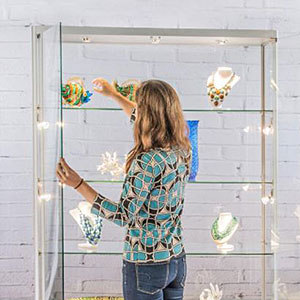 If you've got the room, you might as well exploit the floor space to its fullest advantage. Extra-wide display cases allow retail stores to highlight innumerable items behind lock and key. While security is an important issue for upscale shops, the ability to protect merchandise from dust and fingerprints is also appreciated. Extra-wide display cases reach 60" in length and come with professional-quality features designed to enhance the customer shopping experience. Read on to discover why you should have these commercial store fixtures in your place of business!
What makes these glass floor cabinets different from other styles?
Extra-wide display cases offer an incredible amount of shelf space. Select models feature up to six shelves, and when you factor in the four to five-foot width, it becomes apparent just how much room you have for display.
Most cases are constructed for "full vision," which means the glass sides wrap around the fixture in its entirety. This allows cabinets to be placed out on the sales floor instead of only against walls. Let your customers walk around the cases, giving them full views of the contents front or back.
With such large surface areas, tempered glass doors and shelving are a requisite. The heat-treated material is four times stronger than regular plate glass. Tempering also increases the weight capacity of the shelves.
Once items are placed inside a cabinet, your store's existing lighting may not be strong enough to illuminate them. That is why all our display cases come with internal spotlights, standard. Cabinets with top-only lights send illumination in a downward direction only. If you prefer more control, opt for styles that come with both top and side lighting. The side spotlights let you place added focus on select objects inside the case.
Whether buying one of these large fixtures for your retail store (or even for the home), rest assured these cabinets will last for the duration thanks to professional-quality construction. Their purpose is to elevate merchandise, collectibles, or trophies to comfortable eye levels while boasting considerable real estate to display a multitude of items. Have a need for a slimmer model based on available space? Narrow cabinet towers also offer multiple shelving but with a reduced footprint!