Enclosed Bulletin Board Cabinets for Outdoor Use
---
Enclosed Bulletin Board Cabinet With Weatherproof For Outdoor Displays
Enclosed bulletin board cabinet and display boards are the ideal addition to any school, church, recreation center, gym or public center. Our line of enclosed bulletin board cabinet and message boards give you the opportunity to post important messages and bulletins for all your guests or customers to see at their convenience. Because each of these enclosed bulletin board cabinet is weatherproof you can place merchandise outside to be viewed even after hours. You don't have to be concerned with the safety of your flyers and memos because each bulletin board frame is protected by a perimeter of closed cell foam that seals out rain. We manufacture this outdoor board from heavy duty extruded aluminum with rust resistant fasteners. The finishing touches for your enclosed bulletin board cabinet are two locks, one at the top and one at the bottom, to prevent tampering. Swing open doors and full length hinges make posting changes a breeze. The front lens of these enclosed bulletin board cabinet is impact resistant as well making them optimal for exterior use where basketballs, baseballs or other sports merchandise may come in contact with them.
What kinds of designs do these enclosed bulletin board have?
Enclosed bulletin board cabinet comes waterproof aluminum frames to prevent bad weather.
Bulletin boards have lockable swing open doors to change signs & posters easily.
Different designs and materials are available to choose from.
Illumination bulletin boards are available for businesses to display ads at night.
Our outdoor display boards hold menus within an enclosed frame to protect materials from weathering from the elements. Advertising in enclosed bulletin stands can generate awareness and promote a place of business by creating a promotional notice in front of a facility. Frequently waterproof sign holders are utilized by restaurants; however alternate locations such as financial industries, religious organizations, museum exhibits, and college campuses are ideal for exhibiting information for the establishment. Are you looking for various message surface materials? This category has compiled an assortment of signage stands that are both functional as well as attractive; including magnetic, cork and LED enclosed freestanding panels.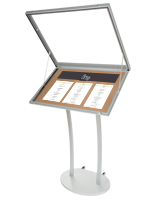 Are you searching for a means of advertising your business to passerby's from the sidewalk? These boards are designed to captivate and peak a potential customer's interest as they stroll past. Presenting information about a venue, whether it be with a menu, wine list, business announcements, specials of the day, or awards and reviews can help to generate excitement and curiosity. These boards are ideal for both day and night! Create unique, custom, and informative message centers within minutes and update easily to continue to entice.
Displays2Go is America's preference to buy In-Stock outdoor banner stands, poster frames, sidewalk signs and brochure boxes. We stock over thousands of products most of which are inventoried and ready for same day purchase. Because we manufacture 90% of our products in-house we are able to ship 98% of our orders within 24 hours. Our customers acquire their produst readily. See our selection of POP displays, trade show products, glass display cases, lecterns and podiums available for purchase. We also have a huge selection of ballot boxes! Our main shopping page will point you in the right direction. We have been producing and packaging proprietary fixtures and marketing displays and graphics holders; and shipping since 1974. We are a leader in this niche industry.