Slatwall Hooks and Hardware for Hanging Merchandise
---
---
---
---
---
---
---
---
---
---
---
---
---
---
Hanging Rails, Faceouts, Hooks and Hardware for Slatwall Merchandising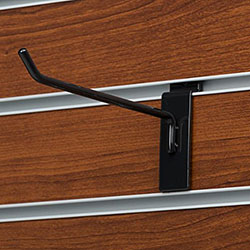 If you're looking to buy slatwall hooks and hardware, we've got you covered. A truly effective merchandising display will feature many different types of products that require varying lengths of mounting pegs and hanging rails. We supply businesses with an assortment of slatwall hooks, single tier and waterfall faceouts and mounting bars as well as unique hardware for specialty items you want to showcase on your display like a spotlight hat or feature shoe. Stocking up on a variety of backup fittings is always a good idea. Especially when you face continual product change-outs on your merchandise panels.
What hardware should I buy for my slatwall display?
Faceouts are designed to easily organize a multi-product selection. There are a couple of different styles to familiarize yourself with. Waterfall faceouts are tiered with multiple hooks or stops and are designed for items on hangers like clothing. Straight faceouts are also designed for hanging items, but this style aligns your products horizontally rather than at an angle, maximizing the amount of space above or below your merchandise to add other goods.
Metal hooks in varying lengths are a must. Typically slatwall prongs come in lengths from 5.5" to 12" while some even feature locking mechanisms to deter theft. These pegs make short work of keeping blister packs, clamshell packs and single items neat and accessible.
Slatwall hanging rails for propping merchandise are ideal for staging items like hand towels or longer items like shower curtains depending on the height of the height of the panel.
Display hardware for spotlight items. These metal fixtures are pre-formed to fit special merchandise and are designed for the feature items on your slatwall.
If you're looking to bolster your arsenal of slatwall fittings, or are completely starting from scratch with a brand new merchandising fixture, Displays2go has a complete set of products to get your display where you want it to be. You want to make sure you have a good mix of featured products, which our spotlight hardware can help with, as well as tiered showcases for pop-out, hanging items. Mix up the dimensions on your merchandise fixture, with long hooks and short hanging rails, but always make sure to keep it neat and tidy. Adding too much to your showcase can be overwhelming to guests and deter the sale. Happy merchandising!