Business Yard Signs For Real Estate & Election Campaigns
---
Business Yard Signs - Custom Plastic Signs For Your Lawn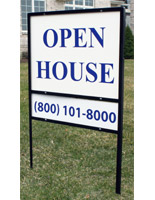 Do you need new business yard signs for your agency? Do you have your own signage, and just need some new frames? These real estate signs are one of the most affordable and effective marketing tools used by home owners and realtors alike. Choose from several different yard frame sizes and designs in this online selection. These business yard signs, also known as outdoor advertisement frames, are specially constructed from rugged materials to last a long time. There are metal and plastic options offered here at some of the lowest prices available on the web. These business yard signs are the most economical way to communicate important property listings to passersby and potential home buyers. The large framing allows users to display plenty of information to entice curious onlookers to stop and take notice. These business yard signs, real estate signs are commonly seen in residential areas and business centers. Most realtors use these yard displays to announce an open house or newly listed property. There are business yard signs for sale here that stick into the yard, as well as other options that can be used on pavement. Order these a-frame open house signs to place temporarily in a driveway during a property showing. These real estate signs with a double-sided design allows for advertising in multiple directions. When the open house is complete, simply fold the frame flat and place in a car trunk.
Do any of these election and real estate signs include custom printed graphics?
All of the business yard signs offered here are intended for realtors that have existing signage, or have a local print shop that will print graphics for these frames.
Some of these real estate signs can be used with existing advertising signage, while others feature display surfaces that can be printed on directly.
For more detailed information regarding any of these frames, please read the corresponding product page specifications, or contact one of our call center specialists.
Real estate signs, like advertising displays and outdoor frames, can lead the way to your residential property and commercial areas for sale. We supply these yard displays in many different designs for realtors to choose from. Order these real estate signs that are portable in bulk quantities so that all of the agents have their own signage. Use these yard signs to increase traffic and help potential buyers find your property or advertise your candidacy for public office. This open house signage, real estate signs can also be used as contractor displays to advertise services like landscaping, painting, or roofing. The a-frame yard signs can also be used to convey "for rent" or "for sale" messages to prospective home buyers. These metal and plastic yard frames, real estate signs and other realtor signs are intended for outdoor use. During inclement weather these open house signage holders should be brought inside to avoid damage. Most of these real estate and election signs that are portable are also lightweight and may not withstand high winds. Keep campaign graphics and custom yard signage looking brand new by avoiding usage during wet weather.
Are any of these real estate signs sold with lens or inserts?
There are several sizes of election sign holders here to choose from among these yard signage frames, many of which feature lens, inserts or other types of display panels.
Several of these real estate signs that are affordably priced feature nothing but the frame so that agents have the freedom to design custom graphics for an open house, or new listing.
Coroplast inserts are sold separately in white and black in various sizes to fit the a frame yard frames offered here.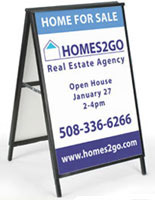 These realtor yard frames are just one small segment of the wide selection of outdoor displays offered in this online catalog. This company has been producing and selling POP displays for more than 40 years. This site features the largest online selection of advertising and marketing products. There are currently more than 2 million units and four thousand unique products available at our warehouse located in MA. Shoppers can place orders on this site at any time. Unlike most other online retailers in this business; there is also live customer service available weekdays during normal business hours. Shoppers can contact these specialists for anything from; placing an order, to requesting freight cost, or simply to inquire about specific product details. Our representatives receive months of in-depth training on policies and procedures as well as detailed weekly product training. Another factor that sets this company apart from all of the competition is the amazing shipping standard. All orders placed before 3PM EST weekdays ship the same day. All other order requests ship the following business day. Some restrictions do apply, especially with such items that include custom graphics or require assembly prior to shipping. Customers can call 1-800-572-2194, or for instant access to live chat with a representative click on the icon located throughout this site. This company has been a leader in this business for nearly four decades now, and continues to grow and evolve with the changes in technology and the demands of the commercial buyers. Please bookmark this site as a favorite and come back and shop with us again soon to see all of the new and exciting products. We appreciate your patronage, and look forward to satisfying all of your point of purchase display needs in the future.