Aluminum Banner Rails - Spring-Loaded Hangers for Ceiling Posters
---
Rails with Snap-Open Aluminum Grips for Hanging Banners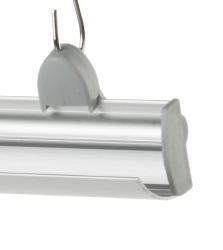 What's the best way to get your marketing posters right where your customers can see them? Aluminum banner rails place your signage in clear view above cashier stations and store fixtures so no one will overlook your message. Never again will your new product advertisements be obscured by merchandise racks thanks to these ceiling-hanging snap grips. Because of their unexpected placement, overhead signs are much less likely to be ignored compared to wall-mounted options and open up a broader range of possibilities. Create hanging wayfinding markers or direct customers to a sale area that can be seen from afar. Plus, these ceiling-mounted aluminum banner rails free up more space for product in retail stores that rely on gridwall systems. Installation is a breeze, as well. Simply snap open the spring-loaded aluminum banner rails, feed your poster in, and close back up - that's it. Change up your advertising campaigns with minimal hassle as often as you need.
What kinds of businesses typically use suspended aluminum banner rails?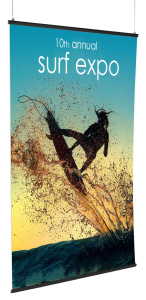 Retail stores, large and small, often use banner rails to advertise new products and sales. A hanging poster can denote an upcoming event or help guide customers toward discounted items or specialized departments.
Fast-casual restaurants use ceiling signage to announce new items and specials to patrons. Especially counter-service establishments, where diners wait in line and are more likely to stop and notice a big, bold advertisement.
Convention centers suspend posters from these banner rails to get the word out about upcoming events and direct visitors to exhibit halls during shows. Placing the signage up high guarantees that it can be viewed easily, even in a dense crowd.
Looking to capture some attention with an extra-long hanging sign? Well, go big or go home! The top and bottom pieces of these banner rails attach independently, so the only limit to the length of your advertisement is your imagination (and the height of your ceiling). If you've got a big storefront window, consider kits with suction cups to draw in passersby. The same signage you use indoors can be repositioned to face the street and attract more foot traffic. Don't forget to pick up some nylon, steel line, or chain hanging hardware with clips for drop ceilings. Add them to your banner rails and you'll be putting up highly-visible posters in no time!