Curved Countertop Sign Frames in Metal and Acrylic Styles
---
Professional Sign Holders with Curved Faces Elevate the Promotion!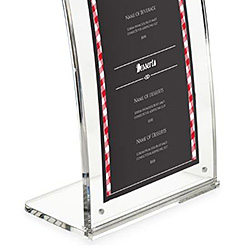 Why opt for straight and flat displays when you can employ elegant convex and concave shapes to the presentation? Curved countertop sign frames provide just that thanks to their stylized designs. When it comes to displaying small tabletop signage, it helps to be distinctive. By applying our curved countertop sign frames, you'll be able to set yourself in the spotlight! Shop standard size formats ranging from 3.5" x 5.5" up to 11" x 17". Curved countertop sign frames are fabricated from heat-formed acrylic plastic or sheet steel. Most models feature magnetic enclosures for a fun and novel way to swap out your inserts.
What are the main features of these stylized signage holders?
Curved countertop sign frames manufactured from clear acrylic provide a beautiful accent to your inserts. All convex holders come with machine-polished edges that add greatly to the overall presentation. The three-piece design features a base and two plates with small embedded magnets. Pull apart the plates, center your menu or other print, and reattach. It's that simple.
The steel countertop sign frames are available with a brushed metallic finish or black powder coating. These models feature convex or concave designs with easy-to-use lift-up lenses. Each non-glare lens comes with a gray or black-printed border and is attached to the top of the frame. Magnetic strips located behind the lenses are what makes them stick to the metal panels. As a result, your signs are held flat and smooth against the curved face for an upscale presentation. Setting up for an event or reception outdoors? An added bonus is their extra weight which helps the frames remain upright in breezy conditions.
A third style features upright designs with horizontally curved faces. These sign frames incorporate clear acrylic and rugged black ABS plastic that creates a sealed container. Available in single and double-sided models.
The one feature our convex and concave signage holders bring to the table is professionalism. Suitable for retail boutiques, corporate offices, and upscale bars & restaurants, these elegant displays elevate your menus and promotions with style. Our customers love the sturdy construction and easy-to-change magnetic plates and lenses. Want more trendy signage options? Menu card holders for cafes and restaurants help push food and drink specials on bars and tables!