Retractable Belt Barriers - Round and Octagonal QueuePole.Deluxe Stanchions
---
---
---
---
---
---
---
---
---
---
QueuePole.Deluxe Barriers with 9.5' Long Retractable Belts
Looking for a stanchion that's a cut above your standard crowd control? Go for a classic look and high-quality build with these retractable belt barriers. Upscale establishments like high-end retail shops, car dealerships, and performing arts centers need fixtures for organizing queue lines and restricting access to off-limits areas. Why not choose a stanchion with the same carefully-considered details as the rest of your decor? Small touches can make a big impact on the look and feel of your space.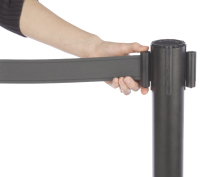 These QueuePole.Deluxe retractable belt barriers with 9.5-foot long bands made from premium nylon have a softer feel than most crowd control fixtures. Delicate stitching suggests a handcrafted aesthetic, as well. The four-way adaptor attaches without screws, creating a clean, nearly seamless post. But what's form without function? Starting at the bottom, a rubberized, weighted base prevents both tipping and sliding, so your queue line is sure to stay firmly in place during peak hours. Not only do the extending 9.5-foot bands cover the largest area with the fewest number of fixtures, they also lock into their receiving posts automatically, putting a stop to accidental releases. These 40-inch tall retractable belt barriers can create nearly any configuration you can think of: from long, rectangular VIP areas, to snaking, multi-lane checkout lines, thanks to the four-way adaptor.
What style options are available?
Choose your post shape — Round stanchions cast a classic silhouette that works in any environment and suits most decor styles. Add a bit of flair with an octagonal post. The sleek, angular design looks great with modern and minimalist interiors.
Choose your finish color — Matte black is a crowd control standard for a reason. The professional, utilitarian aesthetic fits in just about anywhere and the powder-coated finish resists smudges and fingerprints for easy maintenance. When you need a little extra pop, a brushed silver stanchion adds a classy touch. If you really want to stand out, polished chrome is the way to go.
Choose your belt color — Black, gray, and blue complement whichever finish works best for your interior. These reserved hues retain a subtle look, while still providing a gentle accent to your decor.
QueuePole.Deluxe barriers cover a larger amount of floorspace than standard stanchions. Create wide VIP areas at events and long ticketing lines for the box office with minimal interruption from posts. Our handy guide on creating a variety of crowd control layouts can help you determine the right shape and functionality for your business. These upscale dividers keep large groups organized in museums, airports, banks and many other high-traffic locations. Have a limited budget? Check out our affordable QueuePole.Economy crowd control posts. These stanchions set up in just minutes and offer a variety of band color options, so organizing around an event theme can be done in a snap.