Floor Standing Gridwall Display Fixtures - Towers, Panel Stands, Spinners & Gondolas
---
Gridwall Display Stands for Customer-Friendly Product Merchandising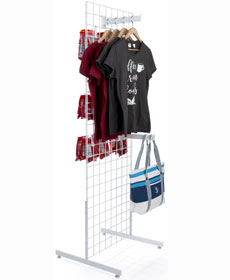 In search of a solution for showcasing smaller retail items? Our standing grid wall collection includes versatile racks to hold hanging or binned store merchandise and small blister-wrapped products. A variety of styles include single-sided L-base stands for against-the-wall placement, as well as towers, gondolas, circular style, and spinners offering 360° accessibility. Many of our three and four-sided standing grid walls come with optional caster wheels for easy mobility. Portable designs allow retailers to move these showcases around their store to find the perfect location — and then lock them into place for stability. If your store or event space has limited floor space, add a circular tabletop gondala to your display. Made of durable steel wire in neutral colors, these standing grid walls, including rotating spinner racks, offer a modest design that lets the products speak for themselves. Designed for stability and visibility in high traffic environments, these store merchandising accessories can be easily configured with hooks, hangers, and shelving to match any inventory needs.
What are some of the wire grid merchandising stand styles?
Rotating standing grid walls, sometimes called spinner racks, offer 360° rotation so customers can easily peruse available merchandise. These space-saving stands are a great choice for showcasing impulse items or specialty accessories on high-traffic sales floors.
Single-sided panel racks with L-shaped bases are a great way to add shelving, hangers, or open bins to available wall space. Designed for stability, these versatile stands turn any area into a point of sale.
Double-sided freestanding gridwall display fixtures have sturdy T-shaped bases that create twice the merchandising space. The versatile design and 6-foot panel height mean these stands easily handle everything from featured seasonal clothing on waterfall hangers to lightweight impulse items on 12-inch straight-arm hooks.
Wire grid tower display fixtures have a sturdy 3-sided design that combines accessibility with the stability of a triangular steel base. These portable merchandising stands come with locking caster wheels that make them easy to move to any location within a store or even promotional event booth space as needed.
Mobile grid panel gondolas are one of the most customizable choices available for retail merchandising. These portable display fixtures can be configured as needed with any combination of accessories to showcase everything from folded clothing to housewares and specialty items. Rolling gondola shelving turns any location into a sales floor, allowing customers to browse freely. The modular design is easily customized with accessories such as shelves, baskets, and brackets as needed to accommodate a variety of sale goods.
Tabletop and floor standing circular display fixtures are a modern solution for stylish pop-up shops, weddings, and boutiques. The circular frame allows for creative floral displays that add a trendy design element to your special day or your merchandising display. Make a statement with these attention-grabbing round metal frames at your next event.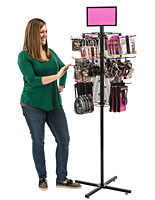 Wire grid fixtures help showcase retail products and make a great addition to any establishment. Some models come bundled as complete merchandising solutions and include 20 hooks of either 4", 8", or 12" in length. You can also opt for a fixture that comes without hooks, and purchase attachments separately and mix-and-match accessories to create the presentation you're looking for. Spinner rack models also include a removable 11" x 7" sign holder. The added signage is ideal for displaying sales pricing or promotional messages. Looking for other merchandising accessories? Wall mounted grid panels let you cover available space with items you wish to sell. Let Displays2go help you present retail products in the most effective way possible - shop our wide selection of fixtures and accessories today.