Aluminum Retail Store Counters Feature Modular Designs for Upscale Interiors
---
Design Your Store's Cash Wrap Layout with Our "Essentials Series" Cases and Counters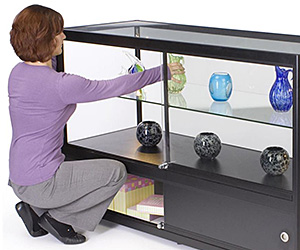 When it comes to building a logical and effective floor plan, you need the right fixtures for the job. Aluminum retail store counters offer quality construction with modular flexibility — the Essentials Series. These display cases and register stands are available in black or silver finishes. This mid-range line of aluminum retail store counters will add class and sophistication to your business. Whether you're selling upscale clothing accessories, gifts, or electronics, shoppers will appreciate the quality of professional presentation! We stock aluminum retail store counters designed to match in both appearance and execution. Shop from a sizable selection of corner and countertop cases for creating a complete cash wrap solution. In addition, you can augment your floor layout with matching freestanding towers. Most models ship fully assembled via freight for added convenience!
What are the benefits of using "Essentials Series" sales and checkout showcases?
Our aluminum retail store counters come loaded with features, starting with their construction. The framework is fabricated with extruded aluminum in either black or silver anodized finishes. Unlike frameless glass models, these metal-framed fixtures offer better strength and structural stability.
Counter-height fixtures offer the dual capability of displaying merchandise while serving customers at time of checkout. We offer high quality tempered glass showcases and corner units. For a complete understanding of what full, half, and quarter-vision designs are, read our informative article! Product display is maximized thanks to the adjustable shelving. If storage is a concern, we also feature models with locking compartments at the base. Register stands are solid fixtures that feature no glass.
Tall display towers add another visual dimension to your store's interior layout. Unlike the store counters, these freestanding displays raise merchandise up to eye level. This not only boosts the overall presentation factor, but also gives the subliminal appearance of more items displayed. Available with or without storage compartments.
Training a spotlight on products always makes them more enticing. The glass store counters are available with LED or halogen side lights. The towers also have this feature, along with top-mounted bulbs for even more interior illumination.
Purchasing an integrated retail cash wrap starts with compatibility. No matter what or how many Essentials fixtures you plan to buy, they all maintain the same style and design for consistency. In so doing, your store will exude professionalism and become a major part of your customer's overall shopping experience. As a budget-friendly alternative, our MRC Series cash wrap system offers outstanding value with variety. Browse the entire line of these affordable showcases in four different finishes including hard rock maple and cherry!