Tower Display with Overhead Lighting
---
Tower Display with Raised Base
The tower display selection featured on this webpage offers showcases from the EuroVū Simplice line of store fixtures. That means these retail cabinets have a genuine European design and construction. Each EuroVū tower display has various user-friendly features. There are two other lines under the EuroVū brand in addition to Simplice; Originale and Moderno. Originale and Moderno cabinets have a curved shape, designed to coordinate with modern settings. The Simplice tower display has a simpler, square or rectangular design to coordinate with any decor. Authentic European engineering is only one reason these showcases are wildly popular. The design each showcase incorporates many features that streamline the functionality of the unit as well. What makes this tower display category unique from other collections of EuroVū Simplice display cases? Each show case in this selection has a tall, square design that differentiates it from rectangular cabinets.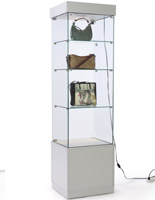 What merchandise does the tower display exhibit?
Trophies at a school or in a home.
The tower display can exhibit historic artifacts in a museum.
Jewelry in a retail store.
Collectibles in a pawn shop are ideal for showcasing in the tower display.
Cell phones and cameras in an electronics store.
New products and inventions at a trade show.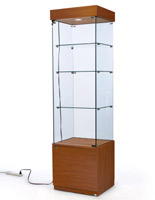 Why is this tower display ideal for exhibiting merchandise as diverse as those just listed? The reason is a sleek European design combined with a stylish, quality construction. Furthermore, each square tower display has numerous shelves for exhibiting a variety of merchandise. The square shape of these retail cabinets is ideal for placement along a wall, in a corner, or in a centralized location. Additionally, the frameless design of some of these tower showcases has a European style that brings a fresh look to any institution's decor. Small L brackets hold the glass shelves, doors and walls together. The L brackets are barely noticeable on the tower case display. Both units with cabinets and those without have a frameless design. The frameless tower display has various benefits over traditional square cases. These benefits include a lower price, more stylish appearance and increased visibility for objects. However, the Simplice line also carries more traditional framed designs to suit any consumer's needs. These cabinets are particularly effective at displaying high-ticket objects, as the square shelves are the ideal size for valuables such as vases, fine dinner ware and artwork.
Why are these store fixtures a better value than others sold online?
The tower display is offered in both framed and frameless designs at an affordable price.
European engineering balances style, quality and durability.
Top lighting illuminates valuables displayed within, captivating the viewer.
These display cases ship unassembled to save on freight expenses.
Several user-friendly features are included in the design, such as a locking door and portability.
Each portable store fixtures has four wheels on the base. The base covers the casters, so these showcases appear to be sedentary. However, when the time comes to rearrange your showroom floor, these portable retail store fixtures will be nearly effortless to move. The wheels do not lock. The fact these retail store fixtures are mobile might seem like a relatively obscure feature. However, store managers and trade show presenters know when the time comes to move a square case without wheels, it can be a very time consuming process. These mobile store fixtures will save users time, frustration and money.
The base, cabinets and canopy are constructed from MDF [medium density fiberboard]. The MDF components of these portable displays are covered with laminate. Customers have four color options for the laminate; wenge, silver, black or cherry. The wenge, black and cherry laminate has a wood-grain pattern that emulates the appearance of a hand crafted wood construction. Producing the wood components from MDF has several money-saving benefits. First, this material allows the store fixtures to ship unassembled, saving money on shipping costs. Second, medium density fiberboard is much more affordable than solid wood. Yet another benefit is the laminate covering of these square towers is easy to clean and maintain. Additionally, it does not damage as easily as other materials. Finally, the MDF construction saves money on labor costs as well, as it is not hand crafted.
These store fixtures come with high quality tempered glass shelves, doors and walls. Small L brackets or aluminum frames hold all of these components together. Tempered glass is necessary for towers that are used in point-of-purchase settings. The reason is tempered glass is safer and more rugged than untreated glass. Tempered glass will shatter into small, fairly even chucks that are easy to sweep up. However, untreated glass shatters into rigid shards, which present much more of a safety hazard in public settings. The glass used in the construction of these retail store fixtures has green edges and a light green tint as well. This enhances the European styling of each case.
Each square showcase in this category has a canopy. Mounted in the canopy is a single light. The illumination is exceptionally effective at capturing the attention of customers, and drawing their attention to featured objects. Please note that the power cord comes out of the canopy, and must be ran down the side of the case. The power cord and light bulb are designed for use with a standard 120-volt outlet. The slender, square shape of these units is ideal for exhibiting high-end objects. The canopy light allows customers to focus on the shelves, which are spacious enough to exhibit a large item, yet small enough that each shelf holds only a couple of pieces.
Retailers, schools and museums are the primary users of these towers. However, the user-friendly components and European design makes these mobile cabinets ideal for trade show exhibitors as well. Presenters find the locking doors very convenient, as they can exhibit new and innovative products while keeping them secure. Additionally, the fact that each fixture is mobile makes setting up a large trade show booth easier. Yet another feature which trade show exhibitors love in these cabinets is the overhead lighting. The illuminated effect is ideal for featuring a new item at a trade show!
EuroVū Simplice towers are only some of dozens upon dozes of cabinets available on this website. In addition to towers, this online catalog offers a wide selection of trade show booths, sidewalk signs, restaurant supplies, jewelry displays, hospitality equipment, literature holders, bulletin boards, trade show exhibits and banners. For over three decades, Displays2go has supplied quality trade show displays and POP equipment. The company's success can be attributed to offering a diverse line of POS & trade show supplies at wholesale prices, and then shipping those displays faster than the competition. On top of a huge product selection and fast shipping, each product is supported by an in-house consumer service team that is standing by, ready to answer any questions on trade show exhibits and mobile towers. Consumer service can be contacted via live web chat or phone at 1-800-572-2194, Monday – Friday, 8:00AM – 5:30PM.