Digital Advertising Screens Including Outdoor Signage and Touch Displays


---
Floor, Counter, Wall, and Ceiling Screens for Digital Advertising Signage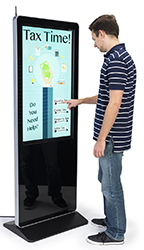 How can a businesses point more attention to their marketing campaigns? Digital advertising screens and media players feature eye-catching video that's hard to ignore. TV signs are frequently used in retail stores, restaurants, banks, hotels, and transit terminals. Digital advertising screens feature third-party ads, brand messaging, product info, menus, and schedules. This eliminates the need to pay for traditional poster printing, reducing marketing costs in the long term.
These digital advertising screens come in several different packages to suit different businesses. Our standalone plug-n-play media players, for example, features videos and slideshows on existing monitors. These devices play media files from USB flash drives and do not require the internet for use, which makes them great for first-time electronic signage users.
What types of TV signs do we offer?
Floor standing digital advertising screens make a big impression with their large displays. Our electronic poster stands have a portrait orientation and a sleek design. Our freestanding towers are available with touchscreens as well as non-touch flat panels. Freestanding electronic signage is also available as conventional TV stands with options for wheels, poster frames, and angled displays. Easily set up your touchscreen with its Android OS that acts like a normal smartphone.
Mounted advertising screens save floor space and feature a sleek design. Our multi-monitor video walls create gigantic presentations in building lobbies and entertainment venues. Each flat panel has a low-bezel design to maximize the visible area. These wall mounts can move individually for easy setup and maintenance. For a more compact promotional tool, we also offer mounted single panels. Ceiling mounts are another great option for featuring electronic signage while conserving floor space.
Outdoor advertising screens safely bring your video promotions and entertainment outside. This weatherproof electronic signage includes all-weather monitors and wall mounting hardware that are designed for exterior applications near exterior bars, pools, and patio seating areas.
Countertop marketing screens fit on tables, counters, and desks to feature messaging anywhere. While they're often called "digital photo frames" because of their size, they play video and audio. These small flat-screens include remotes and has an easy-to-use plug-n-play design.
How do you use these electronic signage screens? Our commercial TVs and external media players feature "plug-n-play," an easy solution for dynamic presentations. These kits play media files from USB flash drives and memory cards. Simply store videos, images, and audio on these removable formats and plug them into the device. In the case of images like .JPGs and .PNGs, the flat-screens will automatically broadcast them together as a slideshow. Since there are several different kinds of electronic advertisers, make sure to check the specifications that your files and storage media are supported. If you're bringing your own external player, like a Blu-Ray or DVD drive, almost all of these flat panels include a compatible HDMI or mini-HDMI port.
Already have your own monitor and you want a commercial electronic display? Our flat-screen TV holders turn your television into a marketing tool. We offer floor stands, mounts, and rolling carts as well as units with AV shelving and secure storage areas. Browse Displays2go.com for thousands of promotional fixtures offered wholesale pricing.