Crowd Control Accessories and Sign Frames for QueuePole.Economy Stanchions
---
Accessories and Sign Frames for QueuePole.Economy Crowd Control Posts

Are you looking to add some extra functionality to your stanchions? These crowd control accessories help your retractable belt posts do more than just organize a checkout line. Designed for the QueuePole.Economy series, each piece comes either as a set or individually, so you can add onto an existing fixture. These crowd control accessories for stanchions are great for retail environments and provide extra value for business owners and customers alike. A number of signage options can be used to display wayfinding messages to help guests find the right line or advertisements showcasing new products and sales. Several common frame sizes are available in either landscape or portrait orientations. Choose from two finishes, polished silver or powder-coated black, that blend seamlessly with your existing stanchions. It's easy to swap out messaging as well, thanks to the simple slide-in design. If your floor space is limited, these QueuePole.Economy crowd control accessories help you add the fixtures you want without taking up any extra room.
How are stanchion signs used?
Stanchion signs can also be used to communicate simple messages, such as; 'Line Forms Here' or 'Thank You For Your Business'. These barrier post accessories are exceptionally versatile to suit the needs of all shoppers. Use these stanchion signs within a bank or business lobby to direct the flow of traffic.
Let customers know about an ongoing sale with a printed sign. Putting advertisements in front of shoppers while they wait to check out is a surefire way to get your special promotion noticed. If they've managed to ignore your sale signage elsewhere, the queue line could be your last chance to increase participation.
Use stanchion top sign frames to help lines move more efficiently. Whether guests are waiting to get into an age-restricted event or to get a drink at the bar, a 'Have ID Ready' message can make the process smoother for everyone. If you have two queues for different purposes, one for purchases and one for returns, for example, clear signage can reduce confusion and ensure quick service for employees and customers.
Instead of using stanchions as a messaging tool, what if you want to put items directly in the hands of your guests? In retail environments, dump bins put small add-ons right at checkout, increasing the likelihood of impulse buys. Literature holders help to sell your services and inform visitors of your offerings before they are helped by staff. This is a great option for banks to advertise current loan rates, and for counter-service restaurants to stock menus so diners can decide what to eat while they wait. For businesses with a more robust product selection, consider a metal mesh magazine pocket. Let clients browse your entire catalog and familiarize themselves with your company before being helped. When guests are coming in from the rain, post toppers with wet umbrella bag hooks can provide a small convenience that makes them feel well-cared-for while in your building.
Where are these stanchion accessories typically used?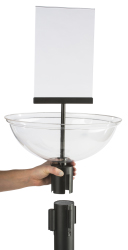 Retail — Checkout lines present an excellent opportunity to engage with your shoppers. As they wait to be helped, customers can view signage about limited-time promos or browse last-minute add-on items in clear stanchion-top dump bins.
Banks and Post Offices — To keep everyone safe, certain line behavior rules must be followed. Use signs to tell customers to stand behind a specific line while others are being helped to keep large groups orderly. While they wait, literature holders can outline all the services offered so they can be well-informed by the time they reach the counter.
Car Dealerships — Sometimes stanchions are used to create a barrier around high-value items, like high-end model or concept for next year's flagship vehicle. By placing brochures on top of these posts, you can pique the interest of shoppers and get them excited about a car's features.
Events — At trade shows and conventions, germs tend to spread easily. Give attendees some peace of mind with a hand sanitizer stanchion topper. That way, they can shake hands, go to a signing, or do some face-to-face networking without the fear of getting sick.
What if your advertising really needs to make a splash? Rigid Coroplast® stanchion signs with custom graphics send your message loud and clear. Spanning the entire height of the post, these full-color advertisements are highly visible, even in heavily-trafficked areas. Both the straight- and curved-sided signs come in sets of two for additional coverage.