Trade Show Kits Are an All-in-One Presentation Solution
---
All-in-One Trade Show Exhibit Kits w/ Backdrops, Furniture & Display Accessories
Are you on the hunt for a seamless, time saving solution to your convention booth set-up? Our extensive line of trade show kits come equipped with everything your business needs to make a lasting impact including custom printed graphics, desks, TV stands, tables, and shelving. No matter the dimensions of your exhibit booth, we offer branded systems designed to not only impress your guest, but make your experience as effortless as possible from setup, to event day, to packing for the next conference.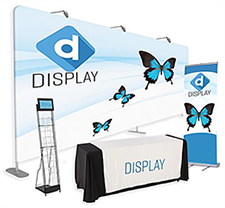 Our portable trade show kits are easy to break down and transport, often including multiple pieces such as literature racks, chairs, and branded graphic walls. Bring your exhibit into the spotlight with large truss displays featuring overhead lights to demand customer attention or smaller, focused showcases with custom backdrops and tables with stretch covers. Our all-in-one trade show kits are a one-stop-shop for any business professional looking to succeed in the commercial exhibit circuit. Take advantage of our in-house custom printing options to sunsure the highest quality products on the convention floor, a surefire way to garner attention and create a lasting impression for your potential and new customers.
What are some of the features within our all-in-one exhibits?
Hook-and-loop receptive trade show kits make great presentation boards and are versatile in that they support an innumerable array of accessories. Large curved backdrops or panel displays are offered with this material for exhibitors to hang accessories for brochures, magazines, and posters.
Custom graphics can be printed on large and curved backdrops - in 8', 9', 10', and even 18' wide trade show kits. Retractable banner stands, counters, table covers/runners, and tents can also be customized with personalized images. For those who are looking for a simpler background solution, we have exhibits with a black 10' pipe and drape backwall.
Portable flooringis included in many of our convention exhibit kits and adds to the overall presentation of your exposition. 10x10 interlocking wood grain foam tiles help create a visually appealing presentation as well as a more comfortable space for your feet.
Exhibit photo booths are becoming much more popular with vendors in the circuit. These set-ups allow customers to take pictures with products, demonstrators, or for group hype-reels. Send potential clients home with a memorable photo on their camera roll so that when they look back on the event, your business stands out - enticing them to reach out for your product or service.
Step & repeat banners are a staple for any large-scale public event or exhibit, allowing businesses to proudly showcase their logo on a professional backdrop. These displays provide a red carpet feel to your demonstration and serve as a quality mode to increase brand awareness by getting your logo featured in the background of images. Use a step & repeat banners in exhibit spaces to present as a legitimate company and add a hip and trendy factor to your display.
Furniture and other accessories are available in many of our all-in-one kits to help enhance your presentation. Modern pub-style table and chair sets let visitors relax at your booth. The seating also gives you the chance to create a conversation to discuss your business with potential new customers.
LED display cases let exhibitors showcase special products. TV stands and iPad/tablet holders enhance the technology aspect of any exhibit. Exhibitors can play slide shows or have interactive simulations to engage guests. Folding tables and large portable counters create extra space for demonstrations, showcasing products, and conversing with visitors.
Our portable exhibit kits will create an effective presentation area at the next convention you attend. We have designed these modular systems with portability in mind. Many of these banner stands and counters are lightweight and come with a carrying case or bag. Most of the accessories shown here can be set up by one person in a matter of minutes. The TV stands included with these modular systems are also portable and can be repositioned easily. These display units require no extra tools to be assembled. Don't simply show up to your event with a table and cloth, rather, wow your guest on entry with custom printed, branded graphics that will send your guest home still talking about your quality presentation. Shop online at Displays2go today to take advantage of quick shipping and low prices!