Pastry Display Cases - Durable Acrylic Construction
---
Food Service Containers Improve Countertop Merchandising for Fresh Baked Goods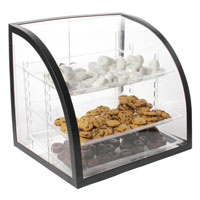 Looking for fixtures to showcase bakery items in your store? Our extensive collection of pastry display cases come in a variety of different styles with durable acrylic construction to ensure whatever is chosen to be presented looks its best. The structure allows your customers to have a clear view of your cookies or muffins. Our countertop plastic trays are designed for easy access to baked goods with styles that include front or rear-loading entry-or both. Many of our food service fixtures also contain 3 or 4 removable trays that are height adjustable, and make it easy to show off items no matter their size or shape. Tabletop pastry display cases are often preferred for small shop owners who tend to have little counter space available, and their high visibility construction makes them ideal for those in the food industry. Attractively designed, these commercial-grade baked goods holders can also be used in delis, bakeries, restaurants, hotels, cafeterias and even retail stores. These smaller units can even be stacked on top of one another to conserve counter space, while at the same time offering a wide range of food merchandise. Our clear pastry display cases with shelves also feature a hinged door to maintain the freshness of the presented merchandise, as well as keep the food protected from guests or children which can be perfect for promotional events or tastings.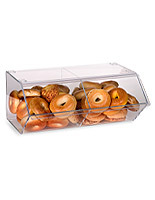 What are the style and functional elements to consider when shopping for bakery tier trays?
Some of our pastry display cases have rear-loading doors, which make it very convenient for store owners to constantly restock their baked goods counter with their freshest products.
Our bakery tier trays can also contain front-loading doors or front and rear loading doors, which are ideal for some restaurant owners, hotel buffets, and cafeterias where customers tend to assist themselves. Front-loading doors ensure food service staff can keep fresh goods stocked for their customers, and they make it very easy for people to serve themselves.
Our products are more durable than glass containers due to their acrylic construction. Some of our bakery tier trays are made from green acrylic, which mimics the look of tempered glass but sturdier and less expensive than actual glass fixtures.
Curved lids give a more modern finish, and we have plastic bins that fit this need. Use this to store cookies, muffins, candies, and even small items that don't fall under the baked goods category. Because of its stylish design, this baked goods holder can be used in almost any location.
Stackable bins are ideal for items like bagels or scones- and can be used in places like restaurants, bakeries, hotels, and delis. As a part of our in-house Workshop line, the containers with polished edges gives the exterior an attractive appearance and the angled design of the acrylic fixture will make it easy for customers to access the content inside.
Bulk Food Bins are a great way for customers to access your fresh bakery items in addition to our plastic bakery containers, and can be paired with a bakery showcase for a cohesive serving solution.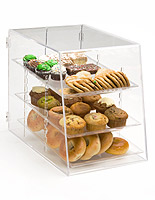 The majority of our countertop bakery cabinets come shipped pre-assembled with no additional tools needed to construct upon arrival making them a perfect option for those with limited time. Accessories include extra trays for certain models to accommodate your delicacies. Our non-refrigerated countertop bakery cabinets are not meant to be stored in a refrigerated area because we want to ensure that your food is the freshest possible. The extra moisture from being in a refrigerated area does not yield the best results for baked goods, which is why we designed our products for mainly countertop use.
We have an extremely large collection of in-stock and ready to ship tabletop bakery cabinets. The durable acrylic construction and polished finish of our bakery tier trays are a great fit no matter how it's chosen to be utilized in the food industry.