Folding Sign Features an A-Frame Design
---
Restaurant Folding Sandwich Boards - Some Available w/ Custom Printed Signs
Do you need a folding sign to advertise outside your restaurant or store? Are you shopping for a lightweight, portable sandwich board to list daily menu specials? This online selection is sure to have a folding sign that will satisfy any signage need. Designed for outdoor use, shop owners can place an a-board sidewalk display outside to entice foot traffic to come in and shop. Use this folding sign to advertise drink specials, promote live entertainment or announce hours of operation. This sidewalk a-board is also used by retail stores to promote a new item or current sales event. This a-board, folding sign is sure to attract a crowd, even from a far! With a quick-change feature, users can also swap-out graphics in seconds. Simply slide out the old graphics, slide in a new one & this folding sign is ready for action! Some of the portable a-frames shown here feature write-on surfaces, or removable flexible boards to display a message. Choose this folding sign that has a letterboard to promote upcoming entertainment, or a seasonal sale. This a-frame is easy to use and can be used to advertise different items on each side. This folding sign is a favorite among bar and restaurant owners. Most of the pavement message boards offered here feature a built-in handle to make carrying a cinch. The folding sign for sale in this e-catalog are offered in black or white as well as many sizes and styles. Most of the portable message displays sold here also ship same day when in stock.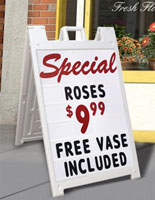 Designed primarily for outdoor use, most of these folding sign displays are made from polyethylene, a rugged plastic. This type of construction makes the sandwich boards virtually indestructible. Under normal use, this polyethylene folding sign will not rust, splinter, crack or peel! Although these sidewalk advertising displays are designed for outdoor use, they should be brought in during extreme rain, snow or wind. For this reason, each folding sign in this category features a collapsible design for easy storage and transport. Another "hidden" feature among this a-board is the hollow framing. There are fill-holes located on this folding sign that allows users to place water or sand into the framing to increase the overall stability of the unit. When using water as the stabilizer, levels should be checked in warm weather. To avoid damage to the folding sign, water should not be used in freezing conditions.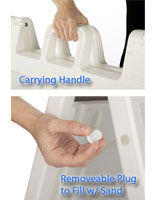 For shoppers looking for a wide variety of portable a-boards to choose from, this is the right place. Sidewalk signs, a-frames and other folding signs are all in stock and ready to ship out to you today. Buy these lightweight signage solutions in bulk for even greater savings. Do you need folding signs for an entire chain of stores? Not a problem. These folding signs can be drop-shipped to any number of different locations all on the same invoice. This site also features collapsible a-frames with metal and wood framing. Buy all of your outdoor advertising signage displays here!
Can these folding signs be used in inclement weather conditions?
All of these portable a-boards are made with materials that are intended for use outdoors.
Although these folding signs can be used outside, as with any type of mobile signage; they should be brought inside during intense weather.
Some of these a-frame displays feature write-on surfaces that are not protected by a lens that could be washed away in a rain or snow storm.
Can any of these folding signs be custom printed directly onto the unit?
All of these portable sandwich boards are made with rugged materials that are easy to print on.
Many of these folding signs come with an included sign board that can also be printed on, or vinyl lettering can be adhered to.
For further questions regarding customizing any of these portable a-frames contact a member of our call center.
Shoppers can contact us on the live chat offered Monday-Friday 9am to 5pm EST. There are customer support staff members here to answer any product, shipping, or other corporate-related inquiries. As one of the nation's leading suppliers of sidewalk signage, we continue to offer a diverse assortment of products while also providing the highest level of quality customer service. Be sure to ask your customer service representative about the incomparable shipping standard offered here. Purchase in stock merchandising displays before 3PM EST, and all available items ship the same day. All other order requests received after the cutoff time ship the following business day, or within the specified number of days listed.
In addition to these portable sidewalk message boards, and other outdoor a-frame sandwich boards there are many more promotional and marketing systems for sale in this e-catalog! Along with this plastic advertising signage, there is a wide variety of other sidewalk a-frames, offered here. Displays2go has been a leader in this unique industry for more than 40 years. This company started out as a small, privately owned business making basic acrylic display products and then selling them to local businesses throughout the state. The volume of orders quickly grew, a physical warehouse building was purchased, a crew of factory workers was hired, and the phones haven't stopped ringing since. In the late 1990's this website was created, allowing the business to expand to include several other lines of merchandise and offer products to shoppers all around the country. More currently we have purchased and built other warehouses, bringing the total number of facilities to three. There are presently over 7,000 individual items offered here, allowing shoppers to satisfy all of their point of purchase and tradeshow display needs! Unlike other online retailers we pride ourselves on offering a large staff of customer service representatives who are thoroughly trained on all of the fixtures sold on this site. These experts can also quote shipping costs and check on the status of a previously placed order. Most other e-catalog stores only exist online, and operate only through email correspondence. Shop Displays2go for quality products and service!