Business Card Stands | Desktop & Countertop Holders
---
Business Card Stand - Organize Office Desks and Checkout Counters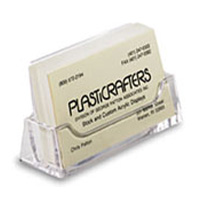 A desktop business card stand is an essential tool for keeping contact information easily accessible to guests & customers. We offer the calling card holders in several designs, including both single and multi-pocket configurations. The desktop business card stands, also called wholesale desk accessories for contact cards, are for sale in acrylic, plastic, wood, and metal. There are a variety of different layouts, from designer styles to basic plastic trays. Why shop this selection of promotional desktop business card stands and holders? There is a countertop pocket for every application and interior décor scheme. This particular line of desk displays for business cards is constructed using only the most durable materials. The solid oak designs come in three different finishes, including light & medium as well as dark red mahogany. Many of the acrylic and plastic card displays are clear, while the metal holders tend to have more colorful finishes. The full collection provides great organizational solutions for every office. Choose from compact single pocket assemblies and styles that feature several pockets. No matter what the application is, our vast assortment is sure to provide a practical, affordable, and functional display solution.
What are some common applications for the single and multi-pocket calling card desk accessories?
Desktop business card stands with a single slot are typically used in professional offices. Attorneys, accountants, real estate agents, and other service industry specialists frequently opt for one of these card displays. Customers and prospective clients are able to easily access the contact cards, so the information can be referred to quickly at a later time. Some professionals even mark dates and times for future appointments, so their clients do not forget.
Multi-pocket calling card holders are better for locations that put out information for several people. For example, a front desk in a lobby will offer information for a number of different workers within a complex. Other times, a help desk at a hotel might feature calling cards for many nearby travel destinations, attractions, companies, and businesses. Networking is very important to every business, and these calling card dispensers are sure to simplify the process of distributing contact information.
Is it advantageous to order contact card stands in bulk?
Wholesale pricing is one of the many areas in which Displays2Go is different from the competition. Most of the stands for business cards are priced exceptionally low in the first place; however, ordering more of the same design generally results in a lower cost per unit.
Take a look at the plastic and acrylic desk accessories that are priced at less than $2 each. These card displays are commonly purchased by large companies to outfit entire office complexes. The savings per unit gets better as the order increases in size, so office administrators and business managers can easily stay within the limitations of their budgets.
Multi-pocket business card dispensers and cases are an effective means of promoting any products, company, or service because they showcase the front of each card in its entirety. This means consumers are able to view an entire selection of cards before making a choice. The desktop calling card display would therefore work perfectly within any office environment, especially if several doctors or corporate employees request that their cards be on display at or near the front entrance of a building. This type of setup will help distribute contact information while adding style to the desk or counter area.
In addition to acrylic, plastic, metal, and wooden business card trays, the online catalog features a number of wall-mounted card racks. If counter space is limited, which is often the case in retail settings, hanging racks may be a better option. These wall hung promotional systems range from a single pocket to tens of pockets, so there is a configuration that is sure to suit your specific needs. Some of the most popular options include our modern acrylic and aluminum displays. We also offer a large-size card dispenser designed specifically for businesses to use for earning income. Local companies often purchase one of these wall mounted products so they can rent out each promotional pocket to neighboring businesses or individuals looking to enhance their exposure.