Articulating TV Mounts with Full Motion Arms
---
---
---
---
---
---
---
---
---
---
---
---
---
---
---
---
---
---
---
---
---
---
---
---
---
Articulating, Swiveling & Pivoting TV Mounts - Full Motion Brackets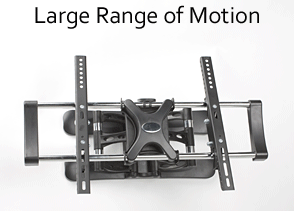 This articulating TV mount selection provides an optimal means of displaying flat panel televisions. With extending arms, the flat screen brackets can be positioned any way necessary for perfect viewing. What size monitor can these articulating TV mounts hold? There is a wide array of swivel bracket options available here able to accommodate plasma screens ranging in size from 10" – 85". These articulating TV mounts feature arms that allow the viewer to adjust the angle of the LCD screen to their liking. A swivel tv bracket, also called an extendable arm fixture, is especially useful in doctors' offices, waiting areas, or bedrooms! The full-motion design ensures the monitor is easily positioned so all patients in a waiting area can view the broadcast. These articulating wall and desk mounts are also suitable for home use. Swivel TV mount fixtures and brackets are great for bedrooms or livingrooms where viewing positions may frequently change. Likewise, this type of articulating mount is especially useful in business settings, such as boardrooms and conference areas, where the flat screen position is frequently changed to suit the viewing audience. Other establishments, such as bars and restaurants, utilize these fixtures to display monitors in an effort to create an inviting atmosphere or to diplay menu items. An extendable bracket can be a powerful marketing tool, or a great source of entertainment for a home or business. There are multiple swiveling and articulating options to choose from here, most of which qualify for same day shipping!

This articulating mount selection includes numerous other key product features, making any unit a great buy at an affordable price. Some of the brackets include panning and tilting capabilities, further allowing the user the ability to position the flat panel television at practically any angle. Some of the models in this category can rotate for displaying both vertically and horizontally-oriented LCD monitors. Many of these swivel arm brackets are also adjustable, allowing the user the ability to display multiple monitor sizes without having to purchase a new fixture. Durably designed, these articulating mounts are sure to withstand years of use within any indoor setting. As with most of these pivot television brackets, all of the necessary hardware is included with every purchase. Some flat screen televisions may require precise screws that can be purchased at a local hardware store. Most of these articulating TV brackets come fully assembled, and require little effort to attach to any LED television. One person can easily attach a swivel tv bracket onto a flat panel monitor, however two people may be needed to clearly position the ensemble onto a wall. Oftentimes homeowners choose these pivoting TV mounts over a fixed bracket due to their adjustability and full range of motion. For example, when mounting your screen over a fireplace or mantle, it can be particularly helpful to have a full motion TV mount to get the viewing angle just right!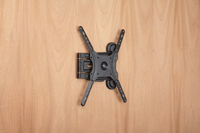 What are some advantages to using pivoting or articulating TV holders versus fixed displays?
These flat screen full motion racks can be adjusted to accommodate any viewing angle.
Many of these articulating brackets can be tilted up and down as well as panned from left to right.
Flat panel swivel mounts are perfect for use in a corporate boardroom to allow the speaker to move the screen to the intended viewer.
What other factors should be considered with extending TV bracket?
Special attention should be paid to the placement of the plasma swivel bracket on the wall in reference to the full range of motion.
This metal mount for TV should be placed such that the middle of the screen is at eye level in a seated position.
For more information regarding any of these LCD swivel mounts contact one of the customer service representatives.
In addition to these full motion tv wall and desk mounts, there are more than 7,000 unique POP displays, including TV stands, store fixtures, trade show supplies and magazine racks. Displays2Go has been designing and distributing business displays for over four decades. The business began as a side job in one man's garage. Since then, the company has prospered to become one of the nation's leaders in this business. Now with three warehouses consisting of over two million units, the corporation continues to be the country's number one preference for quality display solutions. Along with the wide array of quality items offered here, there is also a call center staffed with representatives that can not only process orders, but can also answer product queries, and quote freight costs. These customer service specialists also attend continued training to stay current with changes in shipping calculations, as well as all new objects added to inventory. This company continues to evolve with the changing technology and demands of the people. Our experience alone represents the drive and continued determination to successfully build and supply only the best quality items for customers. Thank you for shopping here, and please come back often to see the new and interesting objects that is added daily!